Make the most of your Relays visit with these tips on opportunities you should not miss.
There's so much happening during Relays week that it can be tough to prioritize. We're here to help:
Drop by the Alumni House
Built in 1901, the Drake Alumni House first served as the home of Mary Carpenter and a meeting place for campus organizations. In 2013 it became home to the Office of Alumni Relations. Stop by to say hello, relax for a bit, browse the Drake memorabilia on display—and bring your own to add to the collection! Hours are 9 a.m.– 5 p.m. daily. If you are a young alumnus who graduated in the last 10 years, sip on mimosas at the Young Alumni Brunch from 10:30 a.m.– 12:30 p.m. on Saturday, April 29!
Participate in a Relays Event!
You don't have to be a world-class athlete to participate in the Drake Relays. Run the downtown Grand Blue Mile on Tuesday or join in the Road Races (5k or half marathon) on Saturday. If you participate, you can take home these Drake Road Race finisher medals. On Wednesday, April 26, marvel at the world-class pole vaulters in Capital Square. Line up early to get a good spot for the 6 p.m. event.
Meet Up with Your Fellow Bulldogs!
The campus will be crawling with Bulldogs of all sorts during Relays week. Meet, mingle, and get sloppy kisses from more than 40 of the four-legged variety during the annual Beautiful Bulldog Contest on Sunday, April 23, in the Knapp Center. Then be sure to catch up with fellow alumni and old friends during the many reunions and events held throughout the week (maybe stick to friendly hugs for these Bulldogs). The All-Alumni Tent party is returning on Friday, April 28, 5-9 p.m.! Visit alumni.drake.edu/relays to start planning your meet-ups now.
Rediscover Campus
Take the usual stroll along Painted Street, but also make time to explore what's new. Swing by the in-progress Science Connector and Collier-Scripps structures, and see why we're so excited about the first new academic buildings at Drake since 1993. Stop in to tour the exhibits at the Anderson Gallery in FAC, or the Drake Relays memorabilia on display in the Drake Archives inside Cowles Library. Head over to Olmsted Center, the bookstore's new home, and stock up on Drake swag for yourself, your family, friends, neighbors, coworkers, pets, and others! Get a sneak peek at the online bookstore here.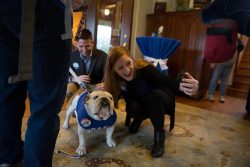 Explore Des Moines!
Whether it's been a year or 20 since you've been in Iowa's capital city (and Drake's backyard), a lot has changed. Check out the many new restaurants and brewpubs that have popped up, join in the booming nightlife and entertainment, or just take a stroll through the sculpture park in the heart of Downtown. Visit www.catchdesmoines.com to discover all that's waiting for you.