The Drake Women's Basketball team recently wrapped up a historic season that included a 22-game winning streak and the opportunity to play in the NCAA tournament for the first time since 2007. Throughout the season, the players were bolstered by a chorus of support from the Bulldog community. Perhaps no voice was louder than that of Paul Morrison, JO'39.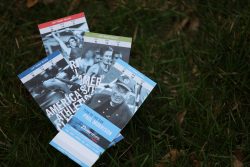 After the team's final game against Kansas State University, Morrison sought to commemorate their phenomenal run. Needing no call to action, Morrison approached Athletic Director Sandy Hatfield Clubb with an offer to purchase, out of his own pocket and by his own initiative, championship rings for team members.
Morrison has been a constant presence on campus for decades, though his role and title have evolved over his era at Drake. He first came to the University as a student in the late 1930s. He returned to campus in 1945 as a staff member, and even after he retired in 1986, he stayed on as a volunteer historian. Overall, he has spent 74 out of his almost 100 years on Drake soil.
Besides all his official titles, he's always been known as Drake's most vocal super fan, repeatedly stepping up to help Drake Athletics meet their needs financially—often quietly and proactively.
"He has given to almost every capital project," Clubb says. "I can't think of anything he hasn't wanted to contribute to. He'll come and say, 'I heard you guys are working on this project.' And he'll want to contribute." In recent years, his biggest ventures have included giving to the construction of the new boathouse for the Drake rowing team, as well as helping fund the football trip to Africa in 2011.
In honor of this super fan, Drake Athletics has set up a fund to promote the kind of loyalty and excellence that Morrison exemplifies. The Paul Morrison Excellence Fund will support the department in providing a world-class university experience for student-athletes. It will also fund initiatives such as the new Paul F. Morrison Collection in the Drake University Archives.
Major Gift Officer Patrick Tomka, liaison to Athletics, hopes the fund will serve in a capacity similar to what Morrison does now for the department. "We're trying to replicate Paul's philanthropy with this fund," he says. Drake Athletics hopes Morrison's continuous commitment to the University inspires others, and the department aims to raise $100,000 before Morrison's 100th birthday on July 25th. According to Tomka, the fund raised a full third of the goal within its first month.
Visit alumni.drake.edu/paulmorrison to learn more and show your support for this Drake legend!