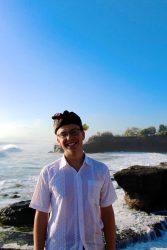 Four Drake University students have been selected as finalists for prestigious 2017–2018 Fulbright Scholarships. This year's Fulbright recipients join a lengthy list of Bulldogs to have been offered the scholarship at Drake, which is often recognized as one of the nation's top producer of Fulbright scholars.
Seniors Nathan Jacobson, Elena Dietz, and Kelly Leatherman have been offered Fulbright English Teaching Assistant roles, teaching English as a second language in Bulgaria, Indonesia, and Malaysia, respectively. In addition, one recent Drake graduate has been selected for a year of research in India.
"I am overjoyed about all of our finalists," said Associate Professor of History Karen Leroux, Drake's Fulbright program advisor. "They put in months of work on their applications, thinking about how to demonstrate their commitment to responsible global citizenship to the range of decisionmakers in the selection process, reaching out to Drake faculty, graduates, and members of the community for support and advice, and making thoughtful revisions to their application essays in response to the constructive criticism they received. I am confident they will represent Drake and the United States very well."
Nathan Jacobson, a religion and sociology major from Fargo, North Dakota, was inspired to teach in Bulgaria after completing a spring 2016 Drake Choir tour to Latvia, Estonia, and Finland. While there, he had the opportunity to sing in ornate churches that had formerly been used as secular spaces by Communist regimes. He yearns to learn more about how personal and religious identity is influenced by culture and politics in eastern Europe—an interest that may lead him to divinity school after he completes his Fulbright.
"My senior religion capstone project at Drake was writing on, with, and for Des Moines' Temple B'nai Jeshurun as part of the Drake Community Press' A Spectrum of Faith: Religions of the World in America's Heartland book project," Jacobson said. "While I'm in Bulgaria, I hope to use some of those religious storytelling tools to serve the community."
He also hopes to establish an after-school club for the children he's teaching in the town of Gotse Delchev (pop. 20,000).
"You really learn a lot about someone else when you're doing an activity together, particularly an activity like music or drama that crosses cultural barriers," he said.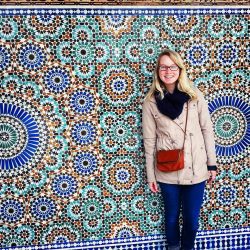 Elena Dietz, an international business and sociology double-major from Dubuque, Iowa, said her interest in Indonesia was stoked by a Drake classmate who studied abroad there, as well as an Islamic Finance course taught by 2015–2016 Global Scholar/Practitioner in Residence Noripah Kamso.
"It's very exciting to be going to a majority Muslim country," said Dietz. "As a white Christian woman from an upper-middle class family, I will gain extremely valuable perspective by living as a minority in another country. I'm eager to learn more about the people and their culture and, as a high school teacher, to empower students to succeed in their educational and personal lives."
She was in the kitchen of her sorority house when she learned that she was a finalist—meaning she and the other finalists are accepted, pending completion of final paperwork and medical checks—and the whole house erupted in excitement.
"About 20 of my sorority sisters and our house mom started screaming and jumping up and down," Dietz said. "I was on top of the world."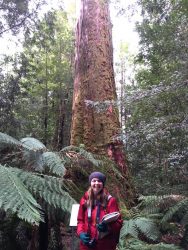 Kelly Leatherman, a public relations and sustainability and reliance double-major from Lawrence, Kan., said her Fulbright experience in Malaysia will help her to more deeply explore the connectivity between environmental sustainability and social justice. She previously studied the complex interplay between those issues during a January Term course in New Orleans, La., and a semester abroad in New South Wales, Australia. 
"Malaysia will broaden my cultural understandings, and present an opportunity to understand and work in an environment where people may perceive issues of conservation and environmental sustainability differently," Leatherman said. "Malaysia has a broad array of biodiversity, but also has a developing economy that leads to deforestation and other environmental issues, so I hope to explore those topics through conversations, teaching opportunities, and other community projects."  
Leatherman has served as a student ambassador, as chapter vice-president of the Delta Gamma Foundation, and co-president of the Drake Environmental Action League while at Drake; she hopes to enroll in law school, specializing in environmental law, upon completion of her Fulbright opportunity.
Drake's fourth Fulbright Finalist, a recent Drake alumna, has been selected for a year of research in India; the University will release her name once she makes arrangements with her current employer for her Fulbright year.
Additionally this year, 2016 Drake graduate Emily Enquist was selected to serve for a second year as an English Teaching Assistant in Bulgaria.
Drake has been named a top producer of Fulbright Scholars four of the past five years, and a total of six times since 2006–2007. The University has had 31 undergraduate Fulbright recipients since 2000–2001.
Visit www.fulbright.org to learn more about the Fulbright Scholarship Program.