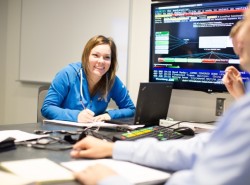 Drake University today announced the launch of Pre-M.Acc., Pre-M.F.M., and Pre-M.P.A. programs that allow students to begin coursework toward a master's degree before completing entrance exams and submitting formal transcripts.
The new admissions pathways for the Master of Accounting, Master of Financial Management, and Master of Public Administration programs offer greater convenience for students who want to further their education. Officials in Drake's College of Business and Public Administration formalized the offerings after initial success of a similar Pre-M.B.A. offering unveiled for the fall 2016 semester.
"Our graduate students juggle busy personal and professional lives, and we quickly found that our Pre-M.B.A. admissions option offered them a greater degree of flexibility and convenience," said Danette Kenne, assistant dean of the College of Business and Public Administration. "We are very pleased to extend that same opportunity to candidates for our other graduate programs.  These new Pre-M.Acc., Pre-M.F.M., and Pre-M.P.A. enrollment options allows individuals to more quickly engage in courses, while ensuring that every student who receives a Drake degree has the professional and academic track record that he or she needs to succeed."
Students are now permitted to take up to nine credit hours toward one of the college's four master's degrees before submitting formal transcripts and, in the case of the M.B.A., MAcc., and M.F.M. programs, passing the required entrance exams. More information about program requirements, curricula, costs, and financial aid opportunities—including expanded scholarships for women pursuing a Drake M.B.A.— is available online at www.drake.edu/cbpa/grad, or by contacting Dianna Gray, outreach coordinator for Drake University's College of Business and Public Administration, at 515-271-3921 or dianna.gray@drake.edu.