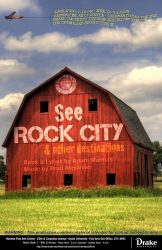 With the spring semester drawing to a close and summer travel locations on the mind, Drake Theatre is taking audiences all over the U.S. with See Rock City: And Other Destinations, a production directed by Michael Rothmayer, associate professor of theatre arts.
See Rock City: And Other Destinations, with music by Brad Alexander and book and lyrics by Adam Mathias, is a musical about taking a risk in a world that tells us to play it safe. Set in six different locations across the country, from a cruise ship in Glacier Bay, Ala., to the boardwalk at Coney Island, characters discover who they are and, perhaps more importantly, where they truly want to be.
See Rock City: And Other Destinations begins Thursday, April 27 and runs through Sunday, April 30, in the William S.E. Coleman Studio Theatre of the Harmon Fine Arts Center. Performances will start at 7:30 p.m. April 27-29 and 2 p.m. on Sunday, April 30. Admission is $8 for adults and $6 for students and senior citizens. Tickets are available at the Fine Arts Box Office in the South Lobby of the Fine Arts Center as well as online. Visit http://drake.edu/fineartsboxoffice/ or call 515-271-3841 for more information.
This will be Rothmayer's first time directing a musical since joining the Drake faculty in 2009.
"He brings an extremely refreshing perspective to the rehearsal room," junior BFA musical theatre major Hank Fischer said of Rothmayer. "He approaches it at first as a play. This forces us to deconstruct the rhyme and rhythm of our songs and view them as genuine text and monologue. It was very difficult to adapt to at first, but has given me a tremendous understanding of the words I am saying."
See Rock City: And Other Destinations strays from the linear plot-structure of a traditional musical. This show is a series of vignettes or small scenes that all take place in different places around the United States and are connected by over-arching themes rather than by plot-line.
"This musical is different than the typical musical because it tells the story of so many different people without connecting them," sophomore BFA musical theatre major Haley Wilson said. "Each cast member plays two roles and gets to tell two beautiful stories that are so important."
According to Hank Fisher, audiences should come see the show for its universal themes.
"There is something for everyone in this show," Fisher said. "It focuses on relationships made and lost all over the country and, especially as young folks, we can relate to the struggles of fostering love and friendships while trying to figure out who we are, and who we want to become."
CONTENT WARNING:
Please be advised this production includes material intended for mature audiences only.