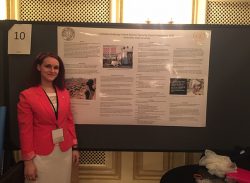 Two Drake University students presented papers during the undergraduate poster session of the annual conference of the Midwest Political Science Association.
Kate Kemper, a senior from St. Paul, Minn., and Darby Matt, a sophomore from Andover, Minn., presented at the conference held April 6-9 in Chicago. The 75th annual event had more than 4,000 registered attendees and featured presentations in more than 80 topic areas.
"The Midwest Political Science Association annual meeting is a place for political scientists from around the country to present on new and groundbreaking research to their peers," said Mary McCarthy, associate professor of political science, who guided Kemper and Matt during their work on the papers. "The conference's undergraduate poster sessions are a great way for undergraduate students to take active part in that scholarly community and learn what it really means to be a political scientist working in the field."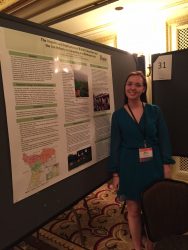 Kemper presented a paper titled "The Impacts and Implications of British Colonialism and the Tea Industry on Darjeeling and Northeast India." She is double-majoring in international relations and environmental science and policy at Drake.
Matt's paper was titled "Critically Analyzing United Nations' Security Council Resolution 1325." She is an international relations and law, politics, and society double-major.
Kemper and Matt applied through a competitive process for acceptance of their paper, then created a poster that articulated their main arguments and evidence in a concise and engaging way, and were prepared to answer questions from scholars in their field.
"Being able to go to the conference really opened my eyes to so many different ideas that a typical day in class would not have been able to offer. I was able to receive amazing feedback and ideas on how to expand my research to make it the best it can be," Matt said.
They also attended other panel sessions, learning what professionals in the field of political science are working on and how they articulate their findings before a scholarly audience.
"By attending lectures and paper sessions, I gained a better understanding of topics I was only slightly familiar with," said Kemper, "and learned about some of the incredible projects being worked on by scholars at institutions around the world."