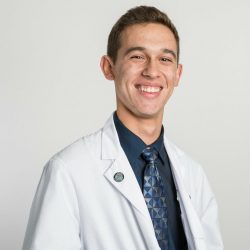 A Drake University pharmacy student has become the first Drake student to publish an article in a national service-learning journal.
Alexander Maciejewski, a first-year PharmD. candidate from Schaumburg, Ill., published "Leadership Development through Service-Learning: My Drake Experience" in the peer-reviewed International Undergraduate Journal for Service-Learning, Leadership, and Social Change. The article published in the journal's Spring 2017 issue, which is available online.
"The importance of service-learning learning in colleges and universities is uniquely important because it develops and prepares responsible citizens, rather than educating students in the classical education environment," he writes.
A leader at heart, Maciejewski dived into key roles from the moment he set foot on campus. He joined the executive council of Drake's Residence Hall Association during his first year on campus, as president of Carpenter Hall, and later served as the association's president. He currently serves on Student Senate as student representative to the College of Pharmacy and Health Sciences, and is president of the Kappa Psi Pharmaceutical Fraternity.
"I have a passion for student affairs" said Maciejewski. "I enjoy serving in roles that allow me to share experience and advice with students, and to develop as a leader."
The academic service-learning projects have helped him to become a more well-rounded and flexible leader, with a focus on servant-leadership—using his talents to serve others. As he relays in his journal article, he has participated in a number of service-learning projects while at Drake, including:
A First-Year Seminar Course that focuses on eliminating the stigmatization of intellectual and developmental disabilities through interactive and community-based learning. Maciejewski worked with Anisa Fornoff, assistant professor of pharmacy practice, to coordinate a variety of activities at Ruby Van Meter, a public school in Des Moines that works with more than 175 special education students aged 12 to 21 years old. The experience included five 90-minute visits to the school, as well as a homecoming carnival through which Drake students facilitated games and activities in a fun and safe environment.
Participation in the Leadership Education and Development (LEAD) academic concentration, which allows students to work with non-profit organizations in hands-on service-learning projects. Through the concentration, Maciejewski traveled abroad to Punta Gorda, Belize, where he and two other Drake students worked alongside the Toledo Institute of Development and Environment to preserve the area's five distinct cultures. They researched herbal/medicinal remedies and created an informational booklet that was distributed to interviewees, local libraries, and community centers.
Maciejewski hopes to inspire others about the value of service-learning projects; he said the opportunities he's had at Drake will prepare him well for life after graduation.
"The importance of leadership development can be related to any career that one may pursue, particularly the healthcare field," Maciejewski writes in his journal article. "As a future pharmacist, valuing teamwork plays an integral role in providing the best outcome for patient care when working with a multidisciplinary team. With my continuing leadership experience and knowledge, I would like to fulfill my aspirations as a future practitioner within the pharmacy profession by learning how to create dynamic change in the healthcare field in order to maximize patient outcomes."