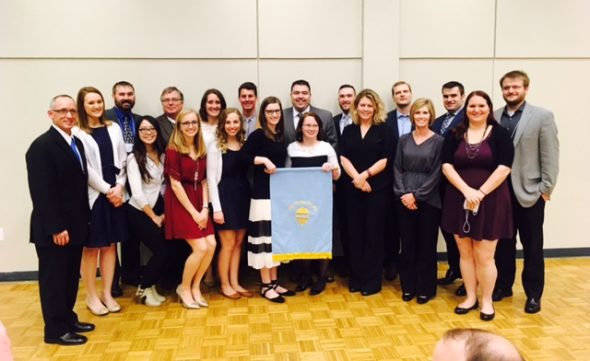 Drake University's chapter of Pi Alpha Alpha, a global honor society for public affairs and administration, inducted 25 new members and recognized a few students with special honors during an awards ceremony last month.
Each of the chapter's new inductees demonstrated exceptional academic performance during their Master of Public Administration studies at Drake University. The chapter also honored the recipients of the C. Kenneth Meyer Rising Star Award and Garry L. Frank Legacy Award during this year's awards ceremony.
Drake University's Pi Alpha Alpha is one of more than 160 chapters around the world at NASPAA member schools. The purpose of Pi Alpha Alpha is to encourage and recognize outstanding scholarship and accomplishment in public affairs and administration. PAA membership identifies those with the highest performance levels in educational programs, preparing them for public service careers.
"Graduate students who meet the standards for membership in the PAA honor society represent Drake's most talented and devoted scholars," said Lance Noe, MPA faculty advisor for the Drake PAA chapter. "PAA members reflect well the diverse talents of public sector and nonprofit leaders in our community. By their induction, we publicly honor their academic and service achievements—a distinction noted not only by their potential and current employers, but also by themselves and Drake University faculty and staff who assist them in their academic and professional journey."
Emily Holley, MPA'15, received the C. Kenneth Meyer Rising Star Award, which recognizes a recent MPA recipient who has made a significant impact in his or her community or profession in the short time since graduating. Holley currently serves as director of communications and outreach for the Iowa Environmental Council. In this role, she assists the executive director, Board of Directors, and staff through the development of communication campaigns and strategies for major policy issues as well as efforts to develop and maintain positive relations with member organizations and the general public.
Holley is also an executive committee member of For Grace – National Women in Pain Conference, working with leaders in the chronic pain community. She previously served as walk manager for the National Alliance on Mental Illness Iowa Walk, as political/field director for the Robb Hogg for U.S. Senate campaign, and as caucus project director for the Alzheimer's Association to assist patients and families to share their personal narratives and advocate for themselves with presidential candidates and the media.
Darcy Tague Doty, BSE'98, MPA'04, Ed.S'11, received the Garry L. Frank Legacy Award, which recognizes an established MPA alumnus who over the course of his or her career has exemplified the ideals of innovation, impact, and engagement. Darcy currently serves as education and information manager at the State of Iowa Department of Transportation where she leads and manages the Education and Information unit and serves as member of the Office of Driver and Identification Services management team.
Darcy previously served as training and organization development specialist at the State of Iowa Department of Administrative Services, as administrator for the Iowa Certified Manager Program, as instructional designer consultant for the State of Iowa, as adjunct faculty for DMACC, and as Delta Rx team member consultant for Drake University. She has been active with a number of organizations, including Alpha Phi Omega, and has presented on pharmacy and health topics to Ankeny Community Schools, to Iowa teachers at the Iowa Science Teachers Annual Conference, and for Iowa Jobs for America's Graduates (IJAG).  Additionally, Darcy has authored the chapter, "Considerations for New Leaders to Avoid Mid-Level Mediocrity," in the book, Follow the Leader?
Award recipients were selected by Drake's Master of Public Administration program faculty based on criteria such as the impact the individual has made at Drake University and the work they have done for the community at large. The legacy award and rising star awards are named after two of Drake's longest-serving faculty members, both of whom carry the title of Thomas F. Sheehan Distinguished Professor of Public Administration. Meyer has taught at Drake since 1990; Frank joined the faculty in 1993.
Des Moines Fire Department Chief John TeKippe, GR'14, will serve as the PAA chapter's president for 2017-2018.
For more information about the Drake University College of Business and Public Administration's graduate programs, contact Dianna Gray at dianna.gray@drake.edu or 515-271-2188.