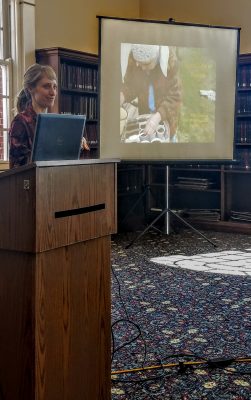 2010 grad discusses Fulbright project
Ellie Bastian, above, a 2010 Radio-TV Producing graduate, participated in a Drake celebration of the Fulbright program last Friday by discussing the project she undertook as a Fulbright Scholar: traveling in Russia to create a documentary.
Free professional headshots taken today
Free headshots are being taken on Monday, April 10, from 4-7 p.m. in the TV studio in Meredith's basement. No signup is necessary.
Ad seniors chosen for national presentation
The advertising senior capstone client, the National Pork Board, has invited ad majors James Jolly, Brooke Vaske and Rachel Berggren for an all-expenses-paid trip to Phoenix on April 26-27.  The students will address the Pork Retail Advisory Committee, which includes senior staff of the top 40 retail chains, including organizations such as Wal-Mart, Kroger and Costco. The students will discuss the seniors' research findings about millennials' food purchase and preparation decision-making, as well as their insights into how best to address those millennials through advertising and promotion.
Project Vote Smart to hold opening celebration
Project Vote Smart, a nonpartisan national political research organization, is holding an open house today  (Monday, April 10) to celebrate its relocation to Drake. The event will be from 5-7 p.m. at the Project Vote Smart offices, 1153 24th St. In attendance will be media, members of the Project Vote Smart board, Drake faculty, President Marty Martin, as well as members of the Des Moines Chamber and other community groups. The open house will  be an opportunity for Drake students to network and find out more about the organization's tools and internships.
Paid IRIS coordinator needed for 2017-2018 academic year
Drake University's Office of Community Engaged Learning is looking to hire a student for the 2017-2018 academic year to serve as the student coordinator for a daily reading program with IRIS (Iowa Radio Reading Information Service).
This Service-Learning Ambassador position is an excellent opportunity for anyone who is passionate about increasing access to information for Iowans who cannot read the printed word because of blindness, visual, or physical impairment or learning difference. Currently, Drake students volunteer to read The Daily Nonpareil, the Council Bluffs newspaper, which is broadcast as an hour in IRIS's 24/7 programming, daily meditations, seasonal readings, and the potential for other opportunities for reading. The student would work 6-7 hours per week coordinating the schedule of student volunteers and deepening integration of the partnership between Drake University and IRIS.
If interested in applying, please send a cover letter of 500 words or less stating your interest in the position and resume to Amanda Martin at amanda.martin@drake.edu by 5 p.m. April 14.
Each applicant must list on their resume one reference, either a faculty, staff, or community partner who can speak to your organization/management, teamwork and professional skills. Pay is $8.25/hr.
You're invited to the Urban Plains party!
Join the Urban Plains capstone staff in celebrating their hard work this semester Wednesday, April 12, at the Des Moines Social Club, 4:30-7:30.