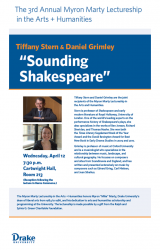 This year's Myron "Mike" Marty Arts and Humanities lecture will be co-delivered by a leading Shakespearean scholar and a musicologist who specializes in the relationship between sound and environment.
Tiffany Stern and Daniel Grimley will deliver "Sounding Shakespeare" starting at 7:30 p.m. Wednesday, April 12, in room 213 of Cartwright Hall, 2621 Carpenter Ave. The event is free and open to the public; tickets are not required.
"This year's Marty Lecturers are brilliant and personable, and their research areas should appeal to a wide variety of audiences," said Eric Saylor, associate professor of music history at Drake University.
Stern is a professor of Shakespeare and early modern literature at Royal Holloway, University of London. One of the world's leading experts on the performance history of Shakespeare's plays, she also specializes in the works of Ben Jonson, Richard Sheridan, and Thomas Nashe. She won both the Times Literary Supplement Book of the Year Award and the David Bevington Award for Best New Book in Early Drama Studies in 2009 and 2010.
Grimley is professor of music at Oxford University and is a musicologist who specializes in the relationship between music, landscape, and cultural geography. He focuses on composers and sites from Scandinavia and England, and has written and presented exclusively on music by composers such as Edvard Grieg, Carl Nielsen, and Jean Sibelius.
"Students and faculty from music, English, theatre, history, SCS, philosophy, and other areas of study will find a lot in this year's Marty Lectureship that resonates with their areas of study," said Saylor. "Everyone else will simply have a great time."
The lectureship is named after Myron "Mike" Marty, who served as Drake's Dean of Liberal Arts from 1984-1986, when he oversaw the integration of the College of Liberal Arts and the School of Fine Arts. He continued to serve as Dean of the newly formed College of Arts and Sciences until 1994, when he joined the Department of History as the Ann G. and Sigurd E. Anderson University Professor, a distinction he still holds. He continued to teach and write until his retirement in 2002. In addition to uniting the Fine and Liberal Arts into a single College, Marty was instrumental in the founding and chartering Drake's Humanities Center and the Friends of Drake Arts. Because of his dedication to sustaining Arts and Humanities scholarship and programming at Drake, The Ralph and Sylvia Green Foundation has named the Center's Arts and Humanities Lectureship in his honor.