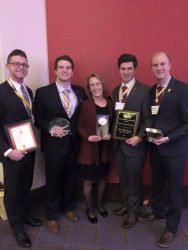 Debra Bishop, associate professor of practice in management and international business, received a regional award for her work as faculty adviser to Drake's Iowa Delta chapter of Sigma Phi Epsilon fraternity. Bishop was named Sigma Phi Epsilon's University Partner of the Year during the annual Carlson Leadership Academy's Midwest event in Chicago this spring.
Drake's fraternity chapter and two individual members also received awards during the leadership academy, which is one of five similar regional events hosted every year by the national Sigma Phi Epsilon organization. Drake's chapter, which has more than 110 active members and an average member GPA of 3.39, competed against about 60 other chapters in the region for the awards.
"It is a pretty incredible accomplishment for Drake's chapter to have received these regional awards, and a testament to the chapter's culture of leadership and academic success," said Bishop. "We consistently have one of the top 10 highest GPAs in the nation, and we also have a very, very high number of fraternity men that are in leadership roles on campus."
The awards committee said Bishop provided exceptional guidance to the chapter as members implemented their co-curricular programming. Individual chapter members were honored in the following categories:
Ben Weinberg, a Drake senior double-majoring in religion and law, politics, and society, received the Frank J. Ruck Leadership award, presented each year to a chapter or individual who shows campus or community leadership and makes significant positive changes on the campus/community as a whole.
Parker Foote, a senior majoring in data analytics, received the J. Edward Zollinger Outstanding Senior award, presented each year to one outstanding senior in each of the fraternity's 26 districts based on nominations from the chapters, chapter counselors, and alumni and volunteer corporations. The award honors outstanding scholastic achievement, fraternity and campus leadership, and community involvement.
Drake's chapter received two awards:
The Talent Power Excellence award, given to one chapter per region that demonstrates a strong ability to identify, assess, and recruit the highest caliber of men on campus; and,
The Excelsior Award, presented to chapters that show significant improvement in a specific area of chapter operations. Drake's chapter was honored for academics—fostering a culture of success in the classroom by providing structured academic programming, restorative support, and partnerships with university staff and services.
"Before attending the [leadership academy] over the weekend, we knew that Dr. Bishop would be receiving an award, and we were elated to know that she should would be honored," said outgoing chapter president Mitchell Klocke, a junior biology and secondary education major. "However, we hadn't realized whatsoever that we would be going home with 5 total awards—something that is truly remarkable when you are competing in excellence against some of the best chapters in the area, such as The Ohio State University, University of Toledo, University of Minnesota, and University of Nebraska."
Klocke said the chapter makes an active commitment to academic success, as demonstrated by the recent decision to add a Vice President of Scholarship to the chapter's executive council. The chapter also hosts numerous community service and fundraising projects each year, including a "Miracle on 34th Street" fundraising event to benefit Big Brothers Big Sisters of Central Iowa and a "Queen of Hearts" event benefiting the Leukemia and Lymphoma Society.