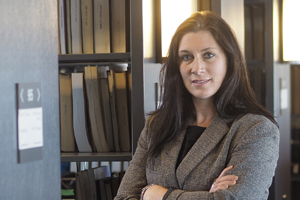 When Shannon Bogolin was 16 years old, she became a Child In Need of Assistance (CINA) and was placed in independent living in Des Moines. Now more than two decades later, she is getting her law degree to become an advocate for juveniles.
"I wanted to give back to children, to Polk County, and the juvenile system," Bogolin says.
Bogolin's path to achieving her goal has not been easy. After graduating high school, she began her career in hospitality, working her way up to corporate negotiations and sales. In her free time, she sat on various community boards for child abuse and neglect, but soon hit a wall.
"All I could do was raise money and promote awareness, but I wanted to do more," Bogolin says. "I realized I was wasting my time not going after my dream of really helping children."
So Bogolin created a seven-year plan to become a lawyer. First, she had to earn her undergraduate degree from Grand View University, then her J.D. from Drake Law School—all while taking care of her family and working.
"I didn't do the typical college path, but I've made best friends at Drake who are also nontraditional students," Bogolin says. "We support each other and find ways to balance life."
As a Drake Law student, Bogolin has done everything possible to gain practical experience in the juvenile system. She worked for the Polk County Attorney's Office for one year, conducting hearings related to CINA and juvenile delinquency proceedings, researching legal issues, and drafting petitions, motions, and briefs.
She then interned with the Iowa Attorney General's Office in the Department of Human Services (DHS), where she handled appeals for child abuse, foster adoptions, and termination of parental rights. She later worked as a juvenile judicial clerk for Judge Colin J. Witt.
This semester, Bogolin is back at the Polk County Attorney's Office on the adult docket, where she has worked on several jury trials. Thanks to her hard work, she secured a guilty verdict in a serious misdemeanor case as well as an attempted murder case with assistant Polk County attorney Olu Salami, LW'02.
"I wanted to make sure that I got a full grasp of everything, which includes being on the adult side, too," Bogolin says. "I may not be advocating for a juvenile, but I'm still advocating for a victim—someone who doesn't have a voice."
Still, Bogolin is looking forward to returning to helping children. Most recently, she joined a program through Iowa's Girls Court and Juvenile Court Services that provides monthly cooking classes to young girls and gives away donated slow cookers.
She says being a former CINA helps in her work, and she often uses her personal experience to understand underlying issues.
"I wholeheartedly remember what it was like to be 16, I remember wanting to be accepted. It helps me weave through the situation," Bogolin says. "But then I put my lawyer hat back on because I still have to do what needs to be done. It's a balance."
In May, Bogolin will cross the stage at the Knapp Center and finally achieve her dream of receiving her law degree. Her goal is to work for Polk County on the juvenile docket.
"It's been a heck of a journey, but an awesome one," Bogolin says. "My experience at Drake Law School has been incredible."