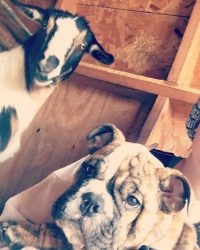 The contestants may be all smiles and slobber, but this year's Beautiful Bulldog Contest® at Drake University promises to be the fiercest competition in history.
Registration for the 38th annual event closed this week with a record-breaking number of applicants — more than 120 English bulldogs from 13 states. The spike in interest coincides with a decision to slim down the world-famous pageant. Based on feedback from audience members and bulldog owners, contest organizers will trim the field from 50 bulldogs to 40, to allow more time for each model to interact with judges and strut across the runway.
Drake will hold a free public lottery on March 20 to select the competitors for its contest, which crowns the official mascot of the 2017 Drake Relays. The lottery will begin at 6 p.m. in The Knapp Center; Drake's student body president, Thalia Anguiano, will choose the contestants by random drawing.
Among the hopefuls:
Annie, a one-year-old pup from Markeson, Wis., whose aunt, Katie Van Scyoc, has committed to the Drake Women's Basketball Team as a freshman for the 2017-2018 season.
Big Lou of Newton, Iowa, whose human dad ran at the Drake Relays back in the 1980s.
Opal, a rescue dog from Cary, Ill., who helps her deaf owner, Corryn Antonizio of Cary, Ill., around the house and loves hanging out with her brother, a current student at Drake.
Miss Wrinkles, of San Marino, Calif., who snores like her owner's grandfather and has the uncanny ability to run for about 10 yards.
Bronx, a farm dog from Boone, Iowa, who cares for chickens, goats, a horse, and potbelly pig as he monitors barnyard chores from a kitchen windowsill.
Pups who are selected during the March 20 lottery will advance to the official Beautiful Bulldog Contest, scheduled for Sunday, April 23, in the Knapp Center. The winning bulldog will receive top honors, a crown and cape, and will appear before his or her royal subjects at the Drake Relays presented by Hy-Vee. If you can't attend the public lottery or Beautiful Bulldog Contest, both events will be live-streamed on Facebook.
In addition to the "Most Beautiful Bulldog" award, the following awards will be given out to the most deserving pups:
Drake Spirit
Family Theme
Best Dressed
Congeniality
Rescue Dog Recognition
Porterhouse People's Choice
Second Runner-Up
First Runner-Up
The Beautiful Bulldog Contest was the first of its kind in the nation and continues to be a model for imitators from several states. In its three decades of existence, the contest has changed little. Some of the awards have remained constant like Most Beautiful Bulldog, and Congeniality, while others have been modified over the years. The winner serves as the mascot to that year's Drake Relays festivities.
Read the official contest rules, and use the official social media hash tag (#BEAUTIFULBULLDOG) in preparation for the nation's cutest, and most slobbery, beauty contest.