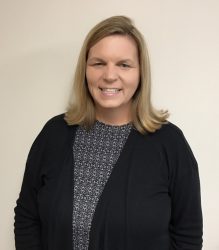 Lisa C. Ploehn, owner and manager of Main at Locust Pharmacy and Medical Supplies in Davenport, was selected to receive the 2017 Lawrence C. and Delores M. Weaver Medal of Honor, the highest honor given by Drake University's College of Pharmacy and Health Sciences (CPHS).
Ploehn will receive the award and deliver the 2017 Weaver Medal of Honor Lecture at 2 p.m. Wednesday, April 26, in Sheslow Auditorium, 2507 University Ave. During the lecture, Ploehn will discuss the difference you can make in your life and in the lives of others, how little things can have a big impact and how she has been able to make a difference. The event is free and open to the public.
The Weaver Medal of Honor recognizes an individual's dedication to making a substantial impact on the profession of pharmacy and the advancement of human health. It is presented annually to a recipient who has fulfilled one of the following criteria: the individual's efforts have advanced the education, research, or outreach mission of the college for the benefit of human health; the individual has made a substantial impact on the profession of pharmacy; or the individual has provided to the college significant financial support that has funded strategic change and progress. The award is made possible by the generous gift of Lawrence Weaver, PH'49, and his wife, Delores.
"Lisa Ploehn's contributions to Drake, the profession of pharmacy, and patient care are numerous," said Renae Chesnut, dean of the College of Pharmacy and Health Sciences. "Our college's values of entrepreneurial leadership, innovation, and professionalism are furthered through the contributions that she has made for our College and our students. She has served as a leader, preceptor, and role model, as well as establishing funds within the college and the state to develop the next generation of pharmacy leaders."
Ploehn, a longtime friend of Drake CPHS and the daughter of Drake alumnus Bill Burke, PH'51, received her doctor of pharmacy degree in 1980 from the University of Nebraska. After moving to Iowa, she began her career in the family business and created a new mission statement that focused on providing quality care to the customers and their families. Ploehn has emphasized the importance of putting people first, always maintaining the values established by the business.
"I had the opportunity to work for my dad, Bill Burke, before he passed away in 1987," Ploehn said. "He was a great pharmacist and cared greatly for his patients. By continuing to carry his dream forward, it has allowed us to be able to help others in need."
In his honor, Ploehn and her sister Ann Cypher have established the Bill Burke Student Professional Travel Fund Endowment that provides funding for 8-10 students to attend professional pharmacy meetings each year. In addition, they have established an endowment that supports an annual leadership conference for students pursuing pharmacy education in Iowa. Up to 15 students from Drake are selected each year to participate in this leadership program.
Ploehn said that one of the many challenges of owning a pharmacy is the need to adapt to change. Main at Locust has upheld their vision by offering diversified services, including medication therapy management and long term care consulting services. Ploehn also owns Main Healthcare Extended Care Pharmacy, Freedom Pharmacy, and Main Compounding Pharmacy.
In preparing for the pharmacy's future, Ploehn attended the "Shaping Your Pharmacy Future" program provided by Drake University to strengthen her practice. She continues to emphasize the importance of putting people first and maintaining the values established by the business.
"[Shaping Your Pharmacy Future] helped me to plan and implement our mission and vision," Ploehn said. "It gave me the tools to plan ahead and be ready for change."
Ploehn is a member of IPA, APhA, NCPA, CPFI and the Quad City Pharmacy Association. She has served as President and on various committees of the Iowa Pharmacy Association and has received the APhA-APPM Distinguished Achievement Award in Community and Ambulatory Practice and the Innovative Pharmacist of the Year Award. She was also recognized with the IPA Appreciation Award in 2005, and was the recipient of the 2007 Bowl of Hygeia Award.
Being a Pharmacist has given Ploehn great flexibility, allowing her to spend time with family while pursuing her other interests like traveling, volunteerism, and culinary school. She also enjoys her yearly medical mission trip to South America, working with children, and is currently serving as Preschool Director for her church. Ploehn's greatest achievements include her role as a mother and owning a pharmacy, and she offers the following advice to anyone interested in business ownership: Be committed. Develop a plan with specific, reachable goals. Don't be afraid of change, and constantly evaluate and learn from your mistakes.
For more information on the lecture, contact the College of Pharmacy and Health Sciences at 515-271-1814.
Visit the CPHS website for information on the past recipients of the Weaver Medal of Honor.