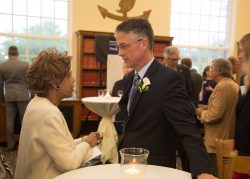 The Drake University National Alumni Board will recognize eight exceptional alumni with awards for professional achievement and loyalty to their alma mater.
The 2017 National Alumni Awards ceremony is set for 4:30 p.m. Thursday, April 27, in the Cowles Library Reading Room, 2725 University Ave.
"This year's award winners exemplify the breadth of talent and depth of generosity of Drake University's more than 75,000 living alumni," said John Smith, vice president for university advancement. "We welcome all members of the Drake community to join us for an event to recognize the contributions of our Bulldog family, and particularly of the remarkable alumni who are being honored this year."
DISTINGUISHED ALUMNI
Richard Sussman, LA'51
Richard Sussman is a retired executive from Sussman Automatic Corporation, parent company of Mr. Steam. He joined the staff of Mr. Steam, a manufacturer of steam baths for homes and health clubs, in 1954 after serving in the Korean War. He led the company during its expansion from industrial steam boilers for the garment industry into residential steam showers. Sussman has stayed connected and engaged with Drake for more than 60 years through the coordination of numerous alumni events and fundraising efforts in the New York City area, as well as through service on the National Alumni Board. He's collaborated with Drake's six most recent presidents, from Henry Harmon to Marty Martin. He recently funded a gift to renovate Lila and Richard Sussman Theater, formerly known as Bulldog Theater, and made a gift to the Donald V. Adams Leadership Institute to provide Lila and Richard Sussman Conferences on Leadership Education. Sussman also funds the Sussman Lecture Series, organized by the Harkin Institute for the Public Policy and Citizen Engagement at Drake University.
YOUNG ALUMNI LOYALTY
David Nelmark, AS'99, JO'99
David Nelmark is a partner with Gislason & Hunter LLP in Des Moines. He was recognized as one of the Des Moines Business Record's "Forty under 40" in 2012. He has also served as president of the American Mock Trial Association and a member of the Des Moines Social Club board of directors. At Drake, Nelmark has volunteered for the National Alumni Scholarship program, served as a member of Drake's President's Circle Board, and serves as a volunteer for Drake's undergraduate and law school mock trial programs.
YOUNG ALUMNI ACHIEVEMENT
Michael Heaston, AS'02
Michael Heaston is executive director of the Lindemann Young Artist Development Program at The Metropolitan Opera in New York. Before working at the MET, he ran the Domingo-Cafritz Young Artist Program and the American Opera Initiative at Washington National Opera at the Kennedy Center. He was also the associate artistic director, among other roles, for the Glimmerglass Festival. In 2015, Heaston was recognized as one of the "30 Professionals of the Year: The Influencers" by Music America; he also served as score consultant for the MET's Emmy and Peabody Award-winning Live in HD program. Heaston has returned to Drake's campus to present masterclasses for students in the music program.
Kristin Williams, PH'00
Kristin Williams is senior vice president and chief health officer for Hy-Vee, Inc. While attending Drake, she was a recipient of Hy-Vee's Pharmacy Scholarship. She has since become a leader in the pharmacy world and has held a variety of roles, from staff pharmacist to her current position. Williams received Progressive Grocer's Top Women in Grocery Rising Star Award in 2014 and has served as a member of the Food Marketing Institute Health and Wellness Council and the National Association of Chain Drug Stores (NACDS) Foundation Board. In 2016, she was recognized as one of Mass Market Retailers' Most Influential Women in Retailing, became a member of Hy-Vee's Board of Directors, and was named 2017 NACDS Regional Chain Conference Chairman. Williams currently serves on the Drake University College of Pharmacy and Health Sciences National Advisory Board.
ALUMNI LOYALTY
Jim Lyons BN'70, GR'71; Dean Rowland LA'74; Robert Stuyvesant, BN'69, LW'74
Jim Lyons, Dean Rowland, and Robert Stuyvesant are lifetime friends who met at Drake nearly 50 years ago and continue to serve their alma mater in myriad ways. Each has held Drake Men's Basketball season tickets for more than four decades.
Lyons retired in 2015 as regional and district manager for the Iowa region of Berlin Packaging Company. During his 40-year career, he received numerous awards for sales and customer service. Lyons is a member of Drake's Bulldog Club and President's Circle, and is an enthusiastic supporter of Drake Soccer. He has also been a member of the National Alumni Board. One of his sons, Joseph Lyons, earned an undergraduate degree from Drake and is currently enrolled in Drake's MFM program.
Rowland is a retired bank examiner for the Federal Reserve Bank of Chicago. After earning his undergraduate degree from Drake, he graduated from the University of Wisconsin-Madison's Graduate School of Banking. Rowland is a long-time season ticket holder for both Drake Men's Basketball and Drake Women's Basketball. He has served on Drake's governing boards for the Bulldog Club and President's Circle, as well as the National Alumni Board. His wife, Margie Rowland, ED'76, also graduated from Drake.
Stuyvesant is an attorney at Stuyvesant, Benton, & Judisch Attorneys at Law in Carlisle. He also serves as the city attorney for Carlisle and other cities in Warren and Marion counties. Stuyvesant is a member of the Iowa and Warren County Bar Associations. He is also the past president of the Warren County Bar Association, as well as the Carlisle Chamber of Commerce. Stuyvesant is a long-time Bulldog Club member, and a current member of the Francis Marion Drake Society and President's Circle governing boards. His son, Jason, graduated from Drake.
ALUMNI ACHIEVEMENT
Ike Vanden Eykel, BN'71
Ike Vanden Eykel is CEO of KoonsFuller Family Law and one of the firm's five managing shareholders. After graduating from Drake, Vanden Eykel received his Juris Doctor from Baylor Law School. Under his leadership, KoonsFuller has become one of the nation's largest family law firms. For more than 12 years, Vanden Eykel has been recognized as a Texas Super Lawyer, including two consecutive years as a Top 10 honoree. In 2010, he was elected president of the Dallas Bar Association and was a member of the organization's Board of Directors for 10 years. He served for three years as a director of the State Bar of Texas. Vanden Eykel also serves on a number of private boards of directors in the Dallas area.