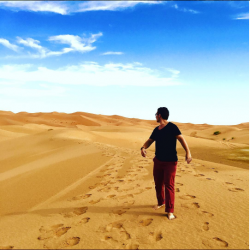 Drake University students will have new options for international studies beginning in fall 2017.
Starting this fall, students will have the opportunity to pursue an academic minor in Arabic, Chinese, French, German, Japanese, and Spanish, as well as in East Asian Studies and Latin American Studies. Additionally, students pursuing a major in International Relations (IR) will complete more intensive coursework in international law and international security.
The enhanced program offerings are a response to student interest, and will better prepare Drake's degree-holders for careers in today's global marketplace, said Marc Pinheiro-Cadd, associate professor and chair of World Languages and Cultures.
"Studies have estimated that new college graduates entering the workforce can earn an additional 4 to 15 percent—across all fields—when they are proficient in a second language," said Marc Pinheiro-Cadd, associate professor and chair of World Languages and Culture.
Drake students often take advantage of study abroad opportunities; in recent years, students have traveled to Argentina, Costa Rica, Ecuador, Japan, Jordan, Morocco, Spain, Switzerland, and Uganda. Almost all IR majors pursue such overseas studies.
Graduates of Drake's World Languages and Cultures program teach, translate, and provide valuable service in fields that range from health care and education to social services and advocacy, in the US and abroad. Alumni of the IR major hold professional positions across the globe, engaging in important roles from international business in China, to working on post-conflict resolution in Rwanda, to undertaking nuclear negotiations between the US and North Korea.
"In this current era of global change, there has never been a more exciting time to join these programs," said Mary McCarthy, a professor of political science at Drake University who specializes in East Asia. "These new program changes will only serve to better prepare students and open up new doors no matter where their journey may take them."
Prospective students who are interested in learning more about Drake's academic offerings should explore www.drake.edu or call 1-800-44-DRAKE.