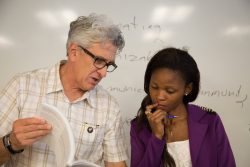 The U.S. Department of State announced that Drake University will again serve as a host institute for the Mandela Washington Fellowship program, which cultivates vital personal and professional connections between Africa and Iowa.
The fellowship program brings a total of 1,000 exceptional young leaders from sub-Saharan Africa to the United States for a six-week period. Drake is one of 36 host institutes chosen this year, and will welcome 25 Fellows for the program. Fellows engage in a variety of academic sessions, professional networking opportunities, community service projects, and site visits to local employers and nonprofits. This year's program will be scheduled for June 16 to July 30; additional details will be added to www.drake.edu/yali as they become available.
"It is an honor to be invited to host the Mandela Washington Program for a second year," said Annique Kiel, Drake's executive director of global engagement and international programs. "Drake University is uniquely positioned, through our location in Iowa's capital city, to facilitate international connections and foster global understanding among stakeholders for some of the world's largest employers, most impactful nonprofit organizations, and most influential civic leaders."
Last year, Fellows visited with representatives from community partner organizations including:
Kemin Industries
Greater Des Moines Partnership
Des Moines University
Wellmark Blue Cross Blue Shield
Iowa Chapter of Entrepreneurship Organization networking event
Square One and Global Insurance Accelerator
Des Moines Botanical Center
Des Moines Public Library
Iowa State Capitol
Iowa Methodist Medical Center and Blank Children's Hospital
Kuder, Inc.
DuPont Pioneer
Rotary Club
Des Moines Waterworks
City of Des Moines
Metro Waste Authority
Iowa Soybean Association
The Principal
World Food Prize
And these elected officials:
United States Congressman David Young, representing Iowa's 3rd congressional district that includes Drake University/Des Moines
Tom Harkin, United States Senator, State of Iowa (1985-2015)
Mayor Franklin Cownie
City of Des Moines
Council member Skip Moore
City of Des Moines
Council member Linda Westergaard
City of Des Moines
Mayor Harvey Dales
City of Manning, Iowa
Mayor Kelly Shaw
City of Indianola, Iowa
The Fellowship is the flagship program of the State Department's Young African Leaders Initiative, a project that former U.S. Ambassador Johnnie Carson said "is destined to be as important to Africa as the Fulbright-Hayes was in building strong personal and professional ties between the United States and Europe following the end of World War II."
"Drake's selection to host these young professionals is a tribute to the university's outstanding job in hosting the Fellows last year," said Carson, a Drake University alumnus and senior advisor with the United States Institute of Peace.
Drake's curriculum will again focus on business and entrepreneurship, catering to Fellows who aspire to become leaders in the private sector or to start their own business ventures in Africa. Iowa's other host institute, the University of Iowa, has the same academic focus, while some of the institutes in other states focus on topics including civic leadership, and public management.
Peter Nyamai Mumo was among the 25 Fellows to visit Drake last year. He said he made professional connections that have helped him optimize farming practices and provide potable drinking water in his native Kenya.
"I learned during my visit that Drake University is well-connected with the community—to the industries and organizations that really matter to us," Mumo said. "[We Fellows] learned more through the connections and friendships that we made than we could have ever expected."
Last year's program provided a direct economic impact through interaction between the Fellows and 20 local organizations including DuPont Pioneer, Kuder, The Principal, Kemin Industries, World Food Prize. The Fellows completed five community service projects, ranging from packing meals for Meals from the Heartland, to building a home for Habitat for Humanity. In addition, Iowans gained a new understanding of the cultural context of many sub-Saharan African countries, which expands long-term relationship opportunities between Greater Des Moines and the African continent.
"We were honored to host and engage with the 25 inspiring Mandela Washington Fellowship for Young African Leaders last summer," said Phil Harrington, Kuder president and CEO. "It was a great start to a wonderful relationship with the Young African Leaders Initiative (YALI). Their aim to empower young people through academic coursework, leadership training, and networking has a natural alignment with our vision to help people discover and achieve what they want to be. We also serve the Sub-Saharan Africa region and were thrilled to share the success stories and positive impact we are having in the Republic of Rwanda with the YALI leaders."
Also as a result of the Mandela Washington Fellowship visit, four Drake fellows were among 50 fellows nationwide to win a business plan competition, each securing a $25,000 grant from the U.S. African Development Foundation for seed capital to start or expand their social enterprises.
##
The Mandela Washington Fellowship for Young African Leaders is a U.S. government program funded by the U.S. Department of State and supported in its implementation by IREX. For more information about the Mandela Washington Fellowship, visit yali.state.gov and join the conversation with #YALI2017.