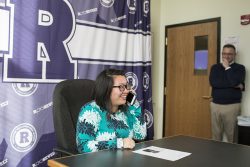 Teacher Appreciation Week was progressing much like any other for Drake alumna Loan Nguyen. It was the final week of the fall semester at Des Moines' Roosevelt High School, and the second-year English and Creative Writing teacher had a long weekend of grading ahead.
But on Thursday afternoon, Jan. 9, Nguyen got the surprise of her life. Halfway through what she thought was a routine interview with principle Kevin Biggs, the phone rang. Biggs answered the phone and handed it to Nguyen—on the other end of the line was outgoing U.S. Secretary of Education John King.
"We heard that students flock to you as a source of shelter," Secretary King told Nguyen. "We're inspired by that and just wanted to thank you for all you do every day on behalf of the department, on behalf of the country and the president."
The Department of Education extended 2,500 calls to teachers around the country during the week of January 9. But only six, including Nguyen, received a personal call from Secretary King. The conversation was captured on video by Des Moines Public Schools and drew attention from WHO-TV News. Her surprise clearly registers on her face as she begins to talk with King.
"I was thinking, 'This is not the Secretary of Education, this is clearly a joke.'" she remembers. "All I could think was that I didn't deserve this [honor.] There are much better teachers in the building. But now, reflecting on it, it was such an honor."
Nguyen graduated from Drake University in 2015 with bachelor's degrees in English and secondary teacher education. Her first experience with Roosevelt was during her undergraduate studies when Molly House, adjunct instructor of education at Drake, recommended she attend a performance by local high school students at Movement 515, an urban arts community where students and mentors create spoken word poetry and street art. Nguyen was inspired by Des Moines Public School students and eventually requested Roosevelt as the site of her student-teaching; that experience led her to apply for a teaching job at Roosevelt after graduation—and now, she's a mentor for Roosevelt's Movement 515 after-school program.
"It was kind of kismet, it all just came together," Nguyen said.
Her Drake education has inspired her as a young teacher, as she appropriates (or in her words, "magpies") lessons from her favorite faculty members. Todd Hodgkinson, assistant professor of education, inspired her to create a theme for her classroom based on gifts from students—her theme is bees. A creative writing course by Yasmina Madden, visiting instructor of English, opened her eyes to the value of students reading, reflecting on, and critiquing each others' work.
"I had lot of professors who really encouraged me to be myself," said Nguyen. "I like to believe I'm kind of quirky and out of the box, and professors nurtured that—my individuality was never squished."
Nguyen's quirky personality came through during her phone call with then-Education Secretary King, as the conversation moved toward their mutual passion for the Broadway musical Hamilton. (She asked if King could get her tickets; alas, the answer was no.)
The whole call lasted only a couple of minutes, but it moved Nguyen to tears—a combination, she says, of shyness and gratitude. She says she'll remember the call forever; not so much for what was said, as for the reaction it prompted from her students.
"So many students have gone out of their way to say, 'I saw your video, Ms. Nguyen,' or 'Good job, Ms. Nguyen,'" she remembers. "It's such a high honor for my students to stop and share that moment of human-to-human empathy and connection with me. The praise from family members, from colleagues, that is rewarding, too—but as an educator, validation from your students means more than anything."