Professor Chris Snider will offer three workshops this spring sponsored by the E.T. Meredith Center for Magazine Studies at Drake University.
The workshops will be on social media strategy, smartphone video combined with Premiere Pro and 360-degree photography and video.
Snider has been teaching both classes and workshops at Drake since 2010. He has helped hundreds of people and companies from all across the Midwest build strategies for using digital tools. He previously worked as digital editor at the Des Moines Register and editor of Juice magazine.
All workshops will be held in Meredith Hall room 124B on Drake University campus.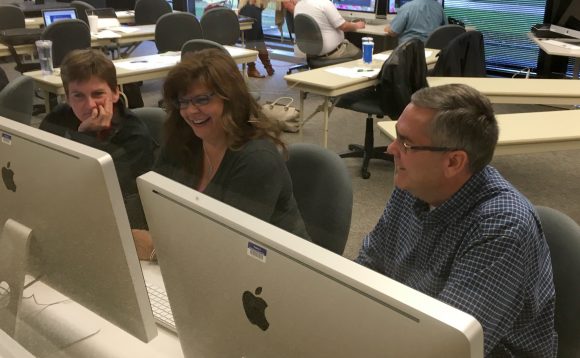 Upcoming 2017 workshops
360-Degree Photography and Video Workshop
When: Wednesday, April 5 — 6-9 p.m.
This evening workshop will show how to use 360-degree video cameras, and then attendees will create a 360-degree video in groups that is ready to post on Facebook and YouTube. Attendees will be able to use the following 360 cameras: Ricoh Theta S, Samsung Gear 360, Nikon Keymission 360 and Kodak Pixpro SP360.
Cost: $25 for public, free for Drake students/staff/faculty
How to register
Contact Shari Tenney in the Drake School of Journalism and Mass Communication office at shari.tenney@drake.edu or 515-271-3194.
Space is limited for all workshops, so please sign up in advance. Cash or check (made out to Drake School of Journalism) accepted. Questions? Contact Chris Snider at chris.snider@drake.edu.
Past workshops
Smartphone Video + Premiere Workshop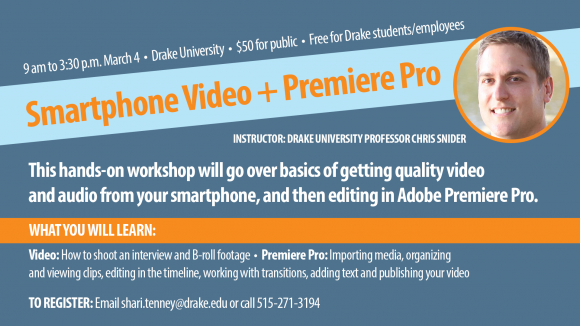 When: Saturday, March 4 — 9 a.m. – 3:30 p.m.
This class will go over the basics of shooting video with your smartphone and then an introduction to editing in Adobe Premiere Pro. Attendees will work in teams to shoot and edit two videos during the day-long workshop.
Cost: $50 for public, free for Drake students/staff/faculty
2017 Social Media Strategy workshop
When: Saturday, Feb. 11 — 9 a.m. – 3:30 p.m.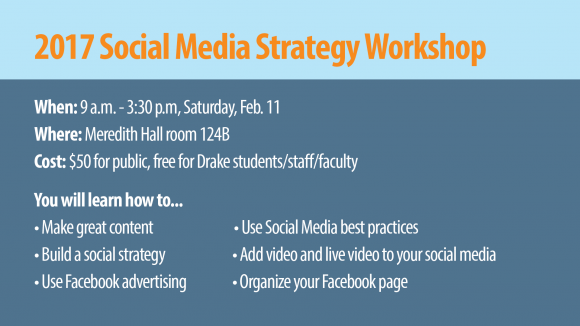 This class will focus on building a social media strategy and on taking advantage of the latest trends in social media. We will test out apps for making images and videos for social media and tools for creating live video.
Cost: $50 for public, free for Drake students/staff/faculty