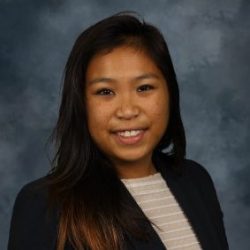 Drake University sophomore Lauren Oreto is among 20 college students from Iowa and California who were selected for the first class of the new Principal Community Scholars Program.
The recipients were selected by Principal, Iowa Campus Compact, and California Campus Compact after being nominated by faculty or staff from their college or university and a rigorous review process.
This semester is a pilot of the Principal Community Scholars Program, which is designed to encourage student leadership to meet community needs. Oreto and the other scholars will each receive a $1,000 scholarship from Principal upon completion of a service project.
"We were impressed by the caliber of the community projects students will be taking on as a part of this scholarship," said Emily Shields, executive director of the Iowa Campus Compact. "It is clear they have a deep commitment to their communities and we can't wait to see what they accomplish."
Campus Compact is the only national higher education association dedicated solely to campus-based civic engagement. The Compact is a national coalition of nearly 1,100 colleges and universities–comprising a national office and 34 state and regional affiliates–committed to the public purposes of higher education.
This semester's scholars proposed projects designed to engage their peers and their institutions in meeting community needs. These projects tap into a variety of skills that can be offered by college students and will impact causes ranging from education to environmental sustainability.
Oreto, an accounting major from St. Louis, Mo., with minors in data analytics and computer science, will use her analytical skills to help empower local elementary school children to feel comfortable with math and science.
Oreto was inspired by a literacy program at Children & Family Urban Movement (CFUM) that pairs students with tutors in English skills. Her vision is to create a similar program that enhances literacy in science and math—either in partnership with CFUM or another organization that works with elementary children—through a cost-effective program that is sustainable for nonprofits.
"I feel as though, when I was younger, I was personally privileged by my parents spending a lot of time tutoring me in every subject, including math and science," Oreto said. "But a lot of kids don't have that opportunity. I'm excited to apply the skills that I've learned in the classroom to help make children more confident, and to help them to not shy away from STEM fields and STEM careers."
Oreto will use her accounting and data analytics skills to inform every element of her new program—from choosing the right environmental influences such as food and music, to the integration of effective and affordable learning activities, to the recruitment and retention of volunteers and staff members. She plans to survey youth before and after they participate in the program to gauge their progress, and to make adjustments that improve the program over time.
She's expected to make a final report to Principal on the results of her work in May; but she said she hopes to keep working on the project after that date. And she plans to capture her program details in a manual that can be used to perpetuate the program after she's moved on.
The Principal Community Scholars will come together virtually on January 24 for a retreat designed to introduce key concepts related to community engagement and service. They will connect with each other and learn about the work being done by Principal and Campus Compact.
Scholars will have the opportunity to continue working with each other, Campus Compact staff, and their on-campus adviser throughout the semester as they complete their projects.
As the only national higher education association dedicated solely to campus-based civic engagement, Campus Compact enables campuses to develop students' citizenship skills and forge effective community partnerships. Its resources support faculty and staff as they pursue community-based teaching and scholarship in the service of positive change.