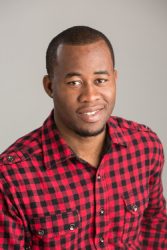 A Nigerian-born author whose debut work of fiction received international acclaim will deliver a free public reading at Drake University next month.
Chigozie Obioma [Chi-Go-Zee Oh-Bee-Ahh-Mahh] will read from his novel, The Fishermen, starting at 7 p.m. Wednesday, Feb. 22, as part of the Susan Glaspell Writers and Critics Series at Drake University. The reading will be held in the Reading Room of Drake's Cowles Library, 2725 University Avenue.
Obioma was born in Nigeria. He has lived in Cyprus, Turkey, and is currently a professor of literature and creative writing at the University of Nebraska-Lincoln.
His debut novel, The Fishermen, drew comparisons to the work of Chinua Achebe, one of Africa's most-read authors, when it was published in 2015. Obioma garnered numerous awards and honors for the work, including the inaugurational Financial Times / Oppenheimer Emerging Voices Prize for Fiction, the 2016 NAACP Image Award for Outstanding Debut Literary Work, the Art Seidenbaum Award for First Fiction, and the 2016 Nebraska Book Award for Fiction. He was a finalist for the Man Booker Prize for Fiction and The Guardian First Book Award, among other honors. He was interviewed by Peter Dowd for NPR's "Here and Now" in May 2015, and has also spoken to the Financial Times, BBC ArtsNight, and other national and international outlets.
Book Synopsis:
Told by nine-year-old Benjamin, the youngest of four brothers, The Fishermen is the Cain and Abel-esque story of a childhood in Nigeria, in the small town of Akure. When their father has to travel to a distant city for work, the brothers take advantage of his absence to skip school and go fishing. At the forbidden nearby river, they meet a madman who persuades the oldest of the boys that he is destined to be killed by one of his siblings. What happens next is an almost mythic event whose impact-both tragic and redemptive-will transcend the lives and imaginations of the book's characters and readers. Dazzling and viscerally powerful, The Fishermen is an essential novel about Africa, seen through the prism of one family's destiny.
More Information:
More about Obioma: http://www.chigozieobioma.com/
More about the Susan Glaspell Writers & Critics Series: https://wwww.drake.edu/english/susanglaspellwriterscriticsseries/