Follow Drake in DC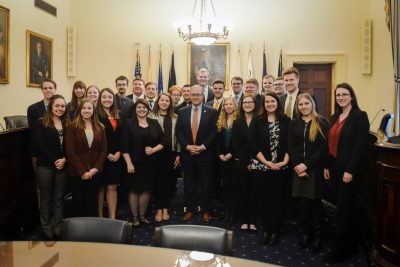 Drake students travel around the country and around the world during January Term. Follow one group studying in Washington, D.C., for the presidential inauguration, led by SJMC professor Jill Van Wyke and politics professor Rachel Caufield. Above, the group meets with Iowa Congressman David Young, a Drake alum.
Project Vote Smart seeks interns
Project Vote Smart, a nonpartisan resource of political data to help voters make informed decisions, is relocating to Drake and is looking for interns. Interns are required to commit about 10 hours a week during the semester and will conduct research, and will collect, analyze and disseminate political data. For more information, contact Vote Smart's Drake internship coordinator, professor Jennifer Glover Konfrst (jennifer.gloverkonfrst@drake.edu) and see the Vote Smart post on Drake Media Gigs.
Media Now summer camp returning to Drake
Know a high school student interested in a career in communications, in Drake SJMC and in polishing his or her media skills? Media Now Drake summer camp will return to campus July 9-12 with classes in multimedia, photography, editing, leadership, writing and more. For more information, see the Media Now website.
2017 Upper Midwest Emmy Scholarship available
The Upper Midwest Emmy Chapter offers scholarships to college students who have completed at least two years of school and are majoring in electronic media.  The grants will be used for tuition and fees. See the Emmy website for more information and the scholarship application, which is due Feb. 6.