One advantage of the Drake experience is location. From the Art Center to the East Village, Des Moines offers a remarkable range of sites and activities. But first Bulldogs have to reach them—often by foot or bus. Now, a handful of cycling-minded students have rolled out new possibilities.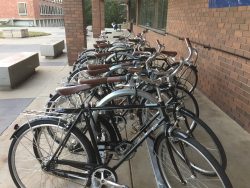 The Bike Library has its origin in a Fall 2015 First Year Seminar. Students in the class applied for and were awarded a $10,000 grant from the Wellmark Foundation to promote wellness while encouraging Bulldogs to explore the region on bicycles.
The FYS passed the project onto a Spring 2016 Leadership Education and Development (LEAD) class, whose students decided how to use the money, settling on the purchase of bikes, locks, helmets, and storage racks. The class set up a partnership with the Des Moines Bike Collective for advice on which bikes to buy and how to maintain the equipment.
"We learned a lot about collaboration with the school and other biking organizations in Des Moines when working on this project. I learned a lot about my own leadership style and how I work with others, too," said Marianna Moroz, who, along with fellow students, took on the project as part of a LEAD capstone.
Anyone with a Drake ID can check out a bike for the day. Riders are free to pedal their rentals as far as they wish but must return them before Olmsted closes.
"It's a great way to stay active and a great way to transport yourself. It's also a fun activity to do with friends," said Moroz.
She hopes another FYS or LEAD class continues to steer the project and expand it. The FYS proposed providing a secure place for students to house their personal bikes during the colder months and adding bike lanes to city streets surrounding campus.