Senior English and public relations double major Reed Fischer has finished his final cross country season with a handful of athletic and academic successes.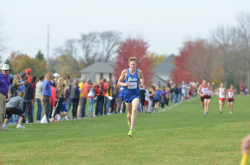 Fischer became the 13th Bulldog to win the Missouri Valley Cross Country Championship, finished seventh at the NCAA Midwest Regionals, and finished 50th at the NCAA Cross Country championships.
"To be completely honest, I never thought I be would a two-time NCAA qualifier when I was a freshman," said Fischer. "In the last two years, it has become more of an expectation for me and coach Dan Hostager than a goal. But this past season has been the first time I was confident I could make it to the NCAAs."
Fischer attributes muchof his success and determination to the overarching support of Drake Athletics.
"I think the biggest thing is that this is a place that fosters success and makes you want to be as good as you can be," he said. "When I won conference, Sandy Hatfield Clubb sent me an email congratulating me. It's the little acts of support like that, along with the Bulldog Way, that all pile onto each other and help lead you to success."
In addition to his athletic achievements, Fischer has also acquired a trove of academic awards. Following his conference title, Fischer became the MVC Elite 18 Award winner and the Eagle Bank MVC Scholar-Athlete of the Week, and was named to the MVC Scholar-Athlete team.
The MVC Elite 18 award honors the highest achievement in academics and athletics by a student-athlete in each MVC-sponsored sport. Modeled after the NCAA Elite 90 Academic Recognition Award Program, the MVC Elite 18 award is presented to the student-athlete with the highest cumulative grade-point average competing at the finals site at each of the MVC's 18 team championships.
Fischer, who owns a 3.81 grade point average as an English and public relations major, took home the MVC Championship with an 8K time of 24.31.8 to win by more than seven seconds and set a course record on the Pheasant Ridge course in Cedar Falls, Iowa.