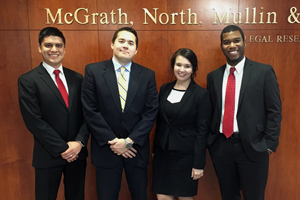 Drake University Law School's two arbitration teams placed second and third at the regional American Bar Association (ABA) Law Student Division Arbitration Competition.
The regional competition was held at Creighton University School of Law in Omaha, Neb., on Nov. 18-19.
The tournament included teams from Drake, Chapman University School of Law, Creighton University School of Law, Texas Tech University School of Law, University of Missouri School of Law, and University of South Dakota School of Law.
Drake's team of Manuel Cornell (2L), Jordan Garrison-Nickerson (2L), Nicholas Rauch (2L), and Monika Sehic (3L) advanced to the final round, where the students were handed their first loss of the tournament to a team from Texas Tech.
Both the first-place Texas Tech team and second-place Drake team will advance to the national finals in Chicago on Jan. 20-21, 2017.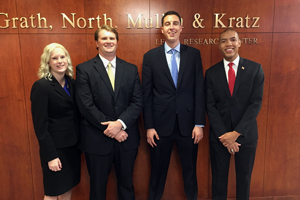 Drake's other team of Rachael Irlbeck (2L), Gabe Walsh (2L), Lucas Sterbick (3L), and Thomas Tolbert (3L) reached the semi-final round of the tournament before being defeated.
The team was ultimately announced as the third-place winner after the final points were tallied.
"As a coach who has watched these students learn and hone their skills throughout the course of the semester, I could not be happier with the result," said Ana Dixit, LW'16, one of the coaches for Drake's arbitration teams. "I am extremely proud of this program and of each Drake Law student who competed in the regional competition."
The ABA Law Student Division Arbitration Competition simulates a realistic arbitration hearing to provide students the opportunity to experience what it is to be a professional, competent, and ethical advocate.
Participants must prepare and present an arbitration case, including opening statements, witness examinations, exhibit introductions, evidentiary presentations, and summations.
Drake's arbitration teams are coached by Dixit, La'Cee Groekten, AS '11, LW '14, LW '15, and Ronald Forsell, LW'15.