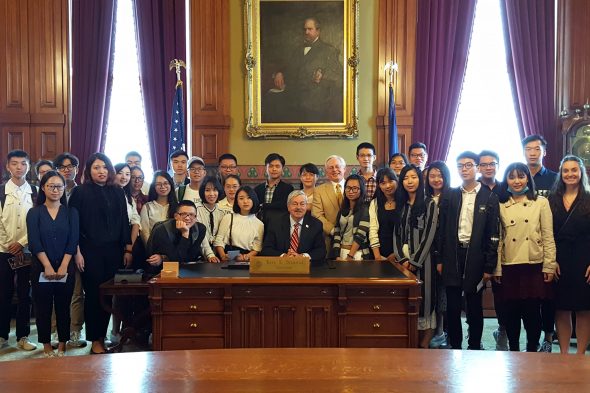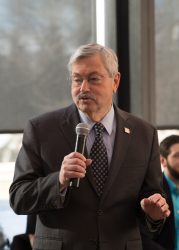 President-elect Donald J. Trump has selected Iowa Gov. Terry Branstad, a 1974 alumnus of Drake University Law School, to serve as U.S. ambassador to China.
Branstad was chosen for the post due to his decades-long history with China; a history that has enhanced cultural, educational, and business relationships between Iowa and China and fostered numerous partnerships between Drake University, Drake Law School, and numerous individuals and organizations in China.
Branstad first met now-President Xi Jinping in 1985. At that time, Xi was a party official in Hebei, a north China province near Beijing. The warm relationship between Iowa and Hebei eventually catalyzed into a sister state relationship, through which delegations of government officials, students, and business leaders from Iowa and Hebei have visited one another over more than three decades.
In 2003, a visit to Hebei by then-Drake University President David Maxwell paved the way for Drake's Teach in China program, which offers recent graduates from any academic background the opportunity to live and work in China teaching English for one year. More than 100 Drake alumni have taught in Hebei; in total, more than 220 graduates of Drake and other nearby colleges and universities have taught in China.
Branstad kept in contact over the years with Xi, who returned to Iowa in 2012 as part of a visit to the U.S. In the past five years, Branstad has led several trade missions to China, including a trip to Beijing and Hebei just last month, to boost Iowa's agricultural exports to the country.
In September, Branstad met with 29 Chinese law students from the Southwest University of Political Science & Law (SWUPL) who were visiting Drake Law School as part of the first-ever Introduction to American Law and Legal System Program. The governor welcomed the students in his office and answered their questions about Iowa-China relations.
As a result of the program, SWUPL and Drake University entered into a partnership to create a Global Leadership Training Program that will bring SWUPL students to Drake Law School to pursue a Master of Laws (LLM) degree.
Earlier this year, Drake University President Marty Martin traveled to China with Drake University Board of Trustees member Greg Johansen and Chinese Cultural Exchange Program Director Kirk Martin. While there, they visited SWUPL and celebrated the kickoff of the Friends of Drake in China network, led by two Drake alumni living in the country.
In a recent interview with the Drake International staff, Branstad said students from China and other countries find a wealth of opportunities while studying at Drake, including internships and post-graduation jobs in insurance, pharmacy practice, government, and other fields.
"Drake University is a very fine school, it's a great place for students from other countries to learn," Branstad said. "It's safe, it's relatively inexpensive compared to a lot of other places in the United States, and it's a very accepting, welcoming place. So I'd certainly highly recommend Drake University in our capital city of Des Moines as a great place to [study]."
Drake sends students and faculty to China to study on an annual basis; and, during the 2015-2016 academic year, 46 Chinese students attended Drake.
"After long discussions with my family, I am honored and humbled to be nominated to serve as the U.S. Ambassador to China," Branstad said in a statement. "I believe that the respect and admiration built over a decades-old friendship between President Xi and I give me an opportunity to help the President-elect and serve Iowa, the United States and the world for the better."
Branstad received his law degree from Drake Law School in 1974, balancing his last years of law school while also serving in the Iowa House of Representatives.
After three terms as a state representative, Branstad served as the lieutenant governor of Iowa from 1979–1983. In 1982, at the age of 35, Branstad became Iowa's youngest serving governor. He has served as governor of Iowa for six terms (1983–1999 and 2011–present) and broke the record for longest serving governor in United States history in December 2015.
Branstad has continued to be involved with Drake Law School, coming to campus each fall to speak to first-year law students during orientation. The governor was named the 2016 Drake Law Alumnus of the Year and honored at the Law School's annual Supreme Court Celebration Banquet in April.
Iowa Governors With Drake University Affiliations:
Francis Marion Drake
Term: Jan. 16, 1896 — Jan. 13, 1898
Drake affiliation: Instrumental in the founding of Drake University, which was named after him
George Washington Clarke
Term: Jan. 16, 1913 — Jan. 11, 1917
Drake affiliation: Served as dean of Drake University Law School from 1917 to 1918
Robert Donald Blue
Term: Jan. 11, 1945 – Jan. 13, 1949
Drake affiliation: Earned a law degree (JD) from Drake University in 1922
Robert D. Ray
Term: Jan. 16, 1969 – Jan. 14, 1983
Drake affiliation: Graduated from Drake University with a business (BS in business administration in '52) and law degree (honorary LLD in '76); headed Drake's Board of Directors; was president of Drake University in 1998.
Chet Culver
Term: Jan. 12, 2007 – Jan. 14, 2011
Earned Master of Arts in Teaching (major: history) at Drake University in 1994
Terry Branstad
Terms: Jan 14, 2011 – present, 1983 – 1999
Earned law degree (JD) in 1974