Drake SJMC partners with global Google News Lab

Google has announced an initiative that partners the tech giant with journalism programs around the world — and Drake SJMC is part of the initial cohort of 48 institutions. The Google News Lab University network aims to "provide journalism educators with the same level of training and support that we've provided to journalists in newsrooms for years."
The partnership will provide SJMC students and faculty with on-campus and online training "on topics ranging from Google tool fundamentals, trust and verification, immersive storytelling, data journalism, advanced search and Google Trends, data visualization, mapping and more," according to the news release.
Stay tuned for information about the first on-campus training session, scheduled for early February.
SJMC group hits agencies, businesses in Twin Cities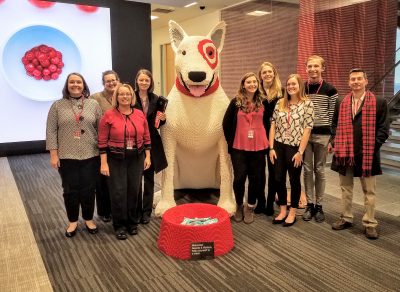 SJMC students and faculty visited the Twin Cities for research, agency visits and alumni networking last week. The visit included stops at Target, Mall of America, the Olson and space150 agencies, and an alumni networking social event.
Drake Community Action Board seeks input
The Drake Community Action Board is attempting to identify barriers that hinder better relations between Drake students and the Drake Neighborhood. The board is conducting a survey to inquire about such issues as student perceptions of the neighborhood, factors that influence those perceptions and whether they change during students' time at Drake. The resulting report will be used to build the foundation for a meaningful and sustainable partnership between Drake University and the Drake Neighborhood.
Please help by filling out the survey at this link.
Paid service-learning opportunity for spring semester
Drake University's Office of Community Engagement and Service-Learning seeks to hire a student for the Spring 2017 semester to serve as the student coordinator for a daily reading program with IRIS (Iowa Radio Reading Information Service).
This Service-Learning Ambassador position is an excellent opportunity for anyone who is passionate about increasing access to information for Iowans who cannot read the printed word because of blindness, visual, or physical impairment or learning difference. Currently, Drake students volunteer to read The Daily Nonpareil, the Council Bluffs newspaper, which is broadcast as an hour in IRIS's 24/7 programming, daily meditations, seasonal readings, and the potential for other opportunities for reading. The student would work 6-7 hours per week coordinating the schedule of student volunteers and deepening integration of the partnership between Drake University and IRIS.
If interested in applying, please send a cover letter of 500 words or less stating your interest in the position and resume to Amanda Martin at amanda.martin@drake.edu by December 9.
Each applicant must list on their resume one reference, either a faculty, staff, or community partner who can speak to your organization/management, teamwork and professional skills. Pay is $8.25/hr.
Qualifications
Necessary
Self-motivated, dedicated
Desired
Journalism major
Experience with recording a story for IRIS
Previous service opportunities and/or community engagement work
Current first-year, sophomore, or junior standing
Job Responsibilities
IRIS Programming
Coordinate the schedule of student recordings, working with JMC 54 Beginning Reporting and Writing faculty
Train student volunteers and providing technical assistance assistance to students
Serve as a liaison between Drake University and IRIS

Design and connect Drake students to additional volunteer opportunities with IRIS
Organize events on-campus to increase awareness

Identify audio description projects
Participate in fundraising and event planning for IRIS
Coordinate publicity measures with SLA graphic design intern
Administrative
Hold 2 professional office hours a week in the Office of Community Engaged Learning (hours will be scheduled between 8am-4:30pm)
Attend bi-weekly staff meetings
Participate in professional development with the Office of Community Engagement and Service-Learning
Support other Service Learning Ambassador's events and initiatives
Help build a better campus library
Drake faculty, staff and students are being encouraged to help Cowles Library in its facility planning project. Take a brief poll to help Cowles Library improve its services. There are gift incentives!
Alumni news
Lynn Freehill-Maye, a 2005 News-Internet alum and freelance writer, this weekend had a major story published in the New York Times' Travel section, about author David Foster Wallace's relationship with Illinois' college towns.