Sign up for SJMC networking bus trip to Minneapolis
The SJMC's annual student bus trip will visit Minneapolis for agency visits and networking on Friday, Dec. 2 and Saturday, Dec. 3. The schedule tentatively includes stops at Target, the Olson and Space 150 agencies, along with alumni networking and a gathering with prospective students, professional visit and exploration at the Mall of America. See Professor Kelly Bruhn or SJMC administrative assistant Shari Tenney for details.
LinkedIn workshop tonight
Looking for assistance with perfecting your LinkedIn profile or need some tips on how to make connections through LinkedIn? Come to Meredith 104 from 6-7 p.m. tonight (Monday, Nov. 28) for an drop-in workshop where you can get one-on-one assistance, watch some video tips and/or see some examples of great LinkedIn profiles. Topics will be geared to participants' needs. Questions about the workshop may be directed to Carlyn Crowe.
"The Press, the Polls and the Presidential Campaign 2016"
Public opinion researcher J. Ann Selzer and political expert David Yepsen will discuss the fallout of the 2016 presidential campaign in a wide-ranging discussion at Drake University on Tuesday, Nov. 29.
"The Press, the Polls and the Presidential Campaign 2016: Where Do We Go From Here?" will begin at 7 p.m. in the Cowles Library Reading Room. The event is sponsored by the Drake School of Journalism and Mass Communication.
Selzer runs the nationally recognized Iowa Poll, and Yepsen is retired director of the Paul Simon Public Policy Institute at Southern Illinois University and former Des Moines Register political reporter. They will discuss media and polling coverage of the campaign, why the results of the election seemed to catch so many in the national polling and journalism establishments by surprise, and the effect on the professions' credibility. There will be plenty of time for audience questions.
How Drake brought Drake to Drake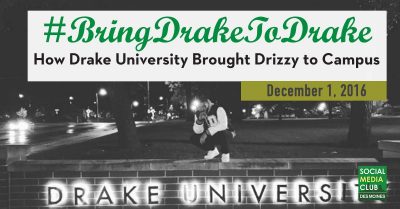 The Des Moines Social Media Club is sponsoring a presentation by Drake University Communications staff on "How Drake University Brought Drizzy to Drake" on Thursday, Dec. 1, at 5:30 p.m. in Mer. 106. Drake students can get in free by RSVPing in advance or showing their Drake ID at the door.
Paid service-learning opportunity for spring semester
Drake University's Office of Community Engagement and Service-Learning seeks to hire a student for the Spring 2017 semester to serve as the student coordinator for a daily reading program with IRIS (Iowa Radio Reading Information Service).
This Service-Learning Ambassador position is an excellent opportunity for anyone who is passionate about increasing access to information for Iowans who cannot read the printed word because of blindness, visual, or physical impairment or learning difference. Currently, Drake students volunteer to read The Daily Nonpareil, the Council Bluffs newspaper, which is broadcast as an hour in IRIS's 24/7 programming, daily meditations, seasonal readings, and the potential for other opportunities for reading. The student would work 6-7 hours per week coordinating the schedule of student volunteers and deepening integration of the partnership between Drake University and IRIS.
If interested in applying, please send a cover letter of 500 words or less stating your interest in the position and resume to Amanda Martin at amanda.martin@drake.edu by December 9.
Each applicant must list on their resume one reference, either a faculty, staff, or community partner who can speak to your organization/management, teamwork and professional skills. Pay is $8.25/hr.
Qualifications
Necessary
Self-motivated, dedicated
Desired
Journalism major
Experience with recording a story for IRIS
Previous service opportunities and/or community engagement work
Current first-year, sophomore, or junior standing
Job Responsibilities
IRIS Programming
Coordinate the schedule of student recordings, working with JMC 54 Beginning Reporting and Writing faculty
Train student volunteers and providing technical assistance assistance to students
Serve as a liaison between Drake University and IRIS

Design and connect Drake students to additional volunteer opportunities with IRIS
Organize events on-campus to increase awareness

Identify audio description projects
Participate in fundraising and event planning for IRIS
Coordinate publicity measures with SLA graphic design intern
Administrative
Hold 2 professional office hours a week in the Office of Community Engaged Learning (hours will be scheduled between 8am-4:30pm)
Attend bi-weekly staff meetings
Participate in professional development with the Office of Community Engagement and Service-Learning
Support other Service Learning Ambassador's events and initiatives
Help build a better campus library
Drake faculty, staff and students are being encouraged to help Cowles Library in its facility planning project. Take a brief poll to help Cowles Library improve its services. There are gift incentives!