The new History of Drake Football exhibit at Cowles Library is open to the public in the James Collier Heritage Room, and can be viewed through January 2017. The exhibit presents visitors with a time capsule of classic Drake football memorabilia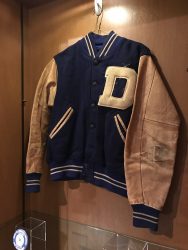 including ticket stubs, programs, photographs, letter jackets, and game balls.
"It's really surprising to see these black and white pictures of famous teams Drake has played in their history," said Hope Grebner, political papers archivist & assistant professor of librarianship.
One of her favorite items in the exhibit is a photograph from the 1929 game Drake played against Notre Dame at Soldier Field in Chicago in front of 50,000 fans.
Items representing major events in Drake's football history were curated for the exhibit. On display behind a glass case are game balls representing Drake's 1,000th game in 2003 and wins over Iowa State in 1957 and 1909, as well as a Drake blue and white letter jacket from the Raisin Bowl game in 1946. The exhibit also highlights the Pulitzer Prize winning photograph taken of Johnny Bright in 1951.
Grebner said the exhibit was curated after the library recently began archiving Drake football memorabilia. The exhibit also supplements a Drake athletics campaign dubbed "The Year of The Fan," honoring 99-year-old Drake super-fan Paul Morrison, also known to some as "Mr. Drake."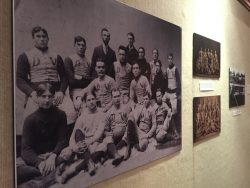 Morrison is a Drake graduate, former full-time Drake employee and WW II veteran who volunteers at Drake as a self-proclaimed Drake sports historian.
"I've been involved at Drake ever since I was a freshman in 1935," said Morrison. "For really the past 70 years I've been working here – I even came back to work the very next day after I retired, so I have what you call a long time love affair with Drake."