One week after a divisive presidential election, journalist Krista Tippett drew on the wisdom of countless luminaries to provide advice for unity and healing within our communities.
Although Tippett agreed to deliver the 37th installment of the Martin Bucksbaum Distinguished Lecture Series months earlier, her Nov. 15 talk helped to synthesize the complex emotions that dominated American culture at that moment. The crowd of more than 3,000 listened intently as Tippett explained the shifting nature of human relationships at a time of increasing diversity, new technology, and heightened polarity.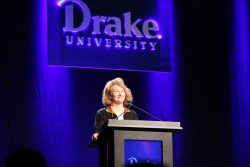 "We're currently reimagining the very nature of authority, leadership, community, and tribe—we're fundamentally reconsidering how we structure our lives together," said Tippett. "The interesting and challenging thing about this moment is that we know our old ways aren't working anymore, but we can't yet see what the new form will be."
As someone who has made a career of conversation, Tippett said it's essential to find words that allow us to understand one another and to navigate diversity.
In the days following the presidential election, thousands of poems were published to the Internet—evidence, said Krista Tippett, of a deep-seated and genuine desire for meaningful expression.
"Sometimes we can forget the power of the words we use," explained Tippett. "These words shape how we understand ourselves, how we see the world, and how we treat others. The world needs our words right now."
It was in the 1960s, Tippett told the crowd that America truly began to integrate racial, religious, and social differences into our communities. The idea of "tolerance" emerged from that moment, and was a valuable civic tool for allowing us to co-exist; but after speaking with countless influential individuals—from the 14th Dalai Lama to Maya Angelou to Yo-Yo Ma—Tippett has concluded that tolerance is too limited of a concept to help our culture grapple with the complexities of diversity.
"Tolerance… is not big enough, in human or spiritual terms," Tippett said. "It is not a lived virtue, nor has tolerance asked us to engage a stranger or invite us to be open and moved and surprised by others."
In two other central messages that tied the lecture together, Tippett encouraged the audience to rediscover listening as an art, and to "dare to claim and embody love as a public good."
Listening is more than waiting for a chance to speak, she said. It's about more than being quiet. It is a willingness to be present, to truly hear another person's views—and, after all, it is "an act of love."
And "love" isn't a word Tippett tosses around lightly. She says we use the term so often—to describe our feelings toward mundane things like restaurant items and clothing—that it's lost much of its weight.
In order to come together as a nation, and as a world, Tippett says we need to discover that deeper understanding of love. "We've lived it as a feeling," she said. "when it's a way of being."
Prior to the lecture, Tippett spent an hour in Drake's Sussman Theater, where she spoke with several dozen Drake students in a private question-and-answer session. She also toured an Interfaith and Multicultural Fair in Parents Hall, hosted by The Comparison Project at Drake University in partnership with the Des Moines Area Religious Council. The fair featured a variety of international cuisine, music, and representatives from 15 central Iowa faith communities and was attended by more than 300 students, faculty, staff, and community members.
See more photos from the lecture in this Flickr gallery: