Some relationships fade into memory as years pass. Others are built on such a solid foundation that decades may pass, but the bonds that hold us remain strong and meaningful.
The latter is the case with Drake University—those who walk our campus as students and then change the world as alumni.
Two of these close-knit groups—the classes of 1957 and 1967—will return to campus during the 108th Drake Relays in celebration of their 50th and 60th reunions during the Golden Anniversary Reunion held April 27–29, 2017.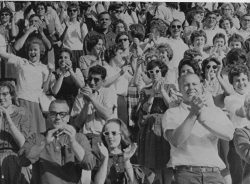 "Nothing is more heartwarming, encouraging, and meaningful to Drake than to welcome Golden Year alumni back to campus to celebrate their lifelong relationship with the University," said Diane Caldbeck, ED'72, associate vice president for University Advancement at Drake. "Alumni from these classes are living proof of what a dedicated, inspired, and well-equipped pack of Bulldogs can achieve."
If you're part of these classes, join us as we relive old memories, make new ones, celebrate our lifelong relationship with Drake University, and learn how the current pack of Bulldogs is carrying forth the legacy we helped establish.
More information will be available at alumni.drake.edu/5060reunion. Check back often for updates.
Questions? Contact Diane Caldbeck, Director of Alumni Relations, at (515) 271-3077 or diane.caldbeck@drake.edu.
Golden Reunion Schedule
Thursday, April 27
Reunion Check-in
Tours of the Alumni House
Class of 1967 Inducted into 50-Year Club
Class of 1957 Recognized with 60-Year Pin
Alumni Awards & Reception
Friday, April 28
City Tour of Des Moines
Luncheon with Alumni Board, National Alumni Scholars, and the Student Alumni Association
Drake Relays
All Alumni Tent Party
50- & 60-Year Reunion Dinner
Saturday, April 29
Campus Tour
Attend a Class
Drake Relays
Golden Reunion Committees
60-Year Committee
Jack Pester, Chair
Bill Buchanan, Gift Co-Chair
Jack Ellis, Gift Co-Chair
Mary Clark Brubaker, Member
Paul Davis, Member
Johnnie Laner Friedman, Member
Jean Shawhan Hamilton, Member
John Ingmand, Member
50-Year Committee
Don Fletcher, Chair
Steve Lytle, Chair
John Born, Member
Chris Johnson Essy, Member
Larry Mayhew, Member
Patrick Moran, Member