Brooke Miller describes Drake as the place she wanted to be from the second she saw it. "I fell in love," says the junior public relations and political science double major. "Ambition and energy was everywhere, and I felt it with every step on my first campus tour."
With hard work and a little help from Mr. Drake himself—Paul Morrison, JO'39, proud alumnus and longtime Drake staff member, historian, and super fan—it became financially feasible for Miller to attend Drake. She is one of four recipients of the Paul F. Morrison Scholarship, which is available to select student-athletes in the School of Journalism and Mass Communication.
Miller, a member of the women's golf team, was able to meet her benefactor at the eighth annual Scholarship Luncheon on Nov. 11. In fact, attendees dining on ham and rice in the Cowles Library Reading Room heard from three generations of Bulldogs from the Morrison family. Morrison graduated from Drake in 1939 and worked on campus from 1945 until his official retirement in 1986. He never really left, however, and continues to contribute to the University even as he nears his 100th birthday.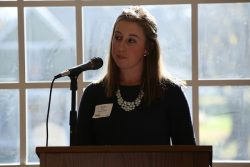 "I've often described my relationship with Drake as a love affair," says Morrison, sporting his iconic blue blazer and encouraging the other donors in the room to continue giving—especially to scholarships. "They will go long after you and I in this room have passed on."
The theme was echoed by his daughter, Holly Morrison Dierks, LA'76. "You have chosen to express [your commitment] in a way that lifts others up."
The newest Morrison Bulldog, Abigail (Dierks) Grassmeyer, AS'10, is following in her mother's and grandfather's philanthropic footsteps. "It's never too early to start a pattern of giving to things you believe in."
In total, 15 members of the Morrison family have received their degrees from the University, a total that Morrison jokingly said he wasn't sure any other family could match. Unless, of course, we're talking about the Drake Family.
See more pictures from the luncheon in this Flickr gallery: