More than 50 alumni gathered in Denver on Sept. 21 as part of the ongoing Leader of the Pack series of events, hosted by the Office of Alumni Relations. Designed to introduce President Marty Martin to alumni in hubs including Naples, Florida; Phoenix; and St. Louis; this past month's event was the 8th in the series.
"It's important that our alumni get to know President Martin, as his vision will largely set the future path for their alma mater—and the continuing strength of their Drake degree," said Vice President for University Advancement John Smith. "And it's equally vital for President Martin to hear firsthand from alumni about their Bulldog experience and their hopes for Drake."
Over hors d'oeuvres and cocktails at the Denver event, alumni heard a decidedly future-focused speech from President Martin.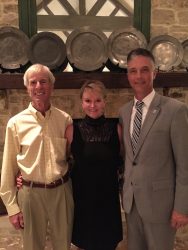 "We enjoyed meeting President Martin and hearing firsthand about his plans for the University," said Jenny Hock, FA '83, who, with husband Doug Hock, JO '82, hosted the event in their home. "The party also provided a wonderful opportunity to support Drake and reconnect with area alumni."
Now in the second year of his tenure, President Martin is no longer solely in learning mode—he's moving forward with several key initiatives, which he addressed in detail at the event in Denver. Among the topics he touched on were the recently announced Drake Commitment and Tuition Guarantee. In addition, he focused a portion of his talk on the Continuous Improvement Plan (CIP), a new model of strategic planning adopted by the University.
"Our Continuous Improvement Plan provides the blueprint for moving Drake forward in a way that is collaborative, transparent, data-driven, and impactful," said President Martin. "The entire CIP is oriented toward ensuring that Drake delivers on its mission promise in a way that transforms lives and strengthens communities by fostering learning and understanding."
You can learn more about continuous improvement at Drake in a number of ways. First, visit www.drake.edu/continuous-improvement for an interactive look at some of the objectives and measures on Drake's docket—as well as the stories behind those numbers.
Watch your inbox to hear about this new direction for Drake from President Martin himself at Leader of the Pack events coming to the Washington, D.C. area and southern California.
For more information on these events and to RSVP, visit alumni.drake.edu/events.