Drake University junior Amanda Muir turns to her research colleague, sophomore Rainie Schulte.
"Where do you want to go first?" she asks. "Australia?"
Muir and Schulte stand at the entrance of Des Moines' Blank Park Zoo. They're here to visit a variety of research projects that Drake University has underway at the zoo, one of which involves recruiting visitors to pay special attention to the wallabies (How many did you see during your visit? What were the animals doing?).
"It's really important that the wallabies have spaces they can go to when they need to hide," Schulte explains. "At the same time, we need to make sure visitors are able to see them."
Some of Drake's projects with the zoo are "citizen science" initiatives, where visitors perform activities that enhance their learning experience while at the same time help caretakers understand animal behavior. Visitors may log the behavior of tigers, macaques, and wallabies, or  use a computer tablet to identify species of birds in the zoo's Discovery Center. Other projects are basic and applied science, focused on animal behavior or captive animal management.
While enriching the educational environment, these activities also help caretakers ensure the comfort of the animals' environments while maximizing visibility to the public.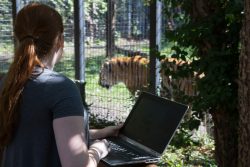 More than 30 students are involved in research at the zoo. They're supervised by Professor of Biology and Psychology Michael Renner, who coordinates Drake's new academic concentration in zoo and conservation science.
"Drake is the only higher education institution to have an undergraduate-focused research partnership with the Blank Park Zoo," says Renner, who worked for 11 years at Philadelphia Zoo prior to joining the faculty at Drake. "I approached [the zoo] about working together in 2011, and our partnership has grown from there, in many ways that are mutually beneficial to Drake students and to the zoo."
Renner also works with the Ape Cognition and Conservation Initiative (formerly known as the Great Ape Trust), and sees those connections to the community essential to placing students in fruitful internship opportunities.
Drake's interdisciplinary zoo science concentration prepares students for entry-level positions leading to leadership roles in zoos and conservation organizations. The concentration is open to students majoring in biology, environmental science, psychology, or neuroscience.
Experts say the concentration—and the first-hand opportunities Drake provides its students—provides great preparation for aspiring zoo caretakers.
"The zoo field is very tough to get into," said Anne Shimerdla, GR'13, director of guest operations, education, and human resources at Blank Park Zoo. "There are about 100 applicants for every zookeeper position we have open. Anything we can help the Drake students do, by building up their résumé and building up their experiences, would help them when they're out looking for a job."