This year, hundreds of Bulldogs in nine cities across the nation took part in this national day of service, which provides a way for Drake University alumni to connect even when they are states apart.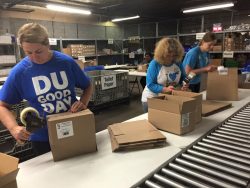 Bonnie Collins, BN'83, organized her third DU Good Day in the Chicago area and says this community service event is now a habit. "We really love being there, and I know Teen Parents Connection loves having us," she said.
Teen Parents Connection is the nonprofit her group worked with for DU Good Day. In Kansas City, alumni sorted hygiene products for Giving the Basics. And in the Twin Cities, they packaged meals for the organization Feed My Starving Children.
"DU Good Day is a great source of pride for all of us," said Diane Caldbeck, associate vice president for university advancement. "It epitomizes alumni commitment to their alma mater and their communities, as well as the value and joy in volunteerism."
The day serves as a way for Drake alumni to carry out the mission of their University long after they cross the graduation stage.
Collins and her fellow alumni found the experience to be worthwhile. "This is a way to give back to the community in the name of Drake University," she said, adding that she personally knows of people who have looked further into the University after hearing about it through their DU Good Day service.
See what alumni were tweeting in this Twitter moment from @DrakeAlumni.
See more pictures from the 2016 DU Good Day in the Flickr gallery below.