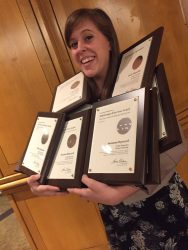 SJMC students receive 3 Pacemakers, numerous regional PRSA awards
Awards season just got more exciting for students in Drake's School of Journalism and Mass Communication. Two of Drake's student publications earned top national honors over the weekend, while students and faculty in the public relations program earned regional in-state awards.
Drake's student-produced publications won three Pacemaker awards, the nation's most competitive award for collegiate journalism, during the Associate Collegiate Press' annual conference held Oct. 20–23 in Washington, D.C.
Drake Magazine was among 19 Pacemaker recipients in the magazine category; DrakeMag.com and Urban Plains were among 16 winners in the online journalism category. Only two other universities—University of Miami and the University of Oregon—won three Pacemakers.
Also this weekend, students and faculty members in Drake's public relations program earned high regional marks from the Central Iowa Public Relations Society of America. Kelly Bruhn, associate dean of the School of Journalism and Mass Communication, was named Outstanding Public Relations Professional and Madison McConnell, senior public relations major, was named Outstanding Student Member during the organization's PRIME Awards ceremony.
"We are incredibly proud of our students and faculty for their hard work and accomplishments," said Kathleen Richardson, dean of the Drake University School of Journalism and Mass Communication.
Pacemaker awards
Two students walked away with individual awards: Susanna Hayward, JO'16, won third place for design of the year for her cover for Drake Magazine. Senior Molly Longman won fifth place for diversity story. Hayward was also a finalist in two other design categories, and Cole Norum, JO'16, was a finalist for feature writing.
Students may put these new awards on the shelf next to numerous honors earned in August during the Association of Journalism and Mass Communications' national contest. Three students won individual awards at that competition, and three student publications received single-category honors. Drake Magazine earned the highest award for general excellence, with category judge Scott Burton, executive editor of ESPN The Magazine, noting, "I'm gobsmacked by how great this entry is—every bit the equal of many professional city magazines."
Additionally, students may take home additional awards next weekend; several students are finalists for the College Media Association's Pinnacle awards in recognition of their work on Drake Magazine and Urban Plains. The awards ceremony will be held during the Fall National College Media Convention in Atlanta, set for Oct. 26-30.
Central Iowa PRSA awards
At the Central Iowa PRSA awards ceremony, student and faculty awards were complemented by awards for exceptional alumni achievement.
The following spring 2016 graduates received honors for PR capstone projects:
Morgan Dezenski, Rachel Dupree, Meghan Jones, Katie Ramsey, Emily Sadecki, Shelby Van Slooten received the Community Champion Merit Award for PR capstone campaign "Putting Manning on the Map."
Ali Felsenthal, Adam Graves, Hope Waggoner, Jenna Sheldon, Courtney Fishman, Rebecca Brown, Kelsey Rooney received the Student Excellence Award for PR capstone campaign "SNAP PR: A Community that Cares."
Cassie Driskell, Cara Regan, Alyssa Zipperer, Megan Auren, Emma Frederick, Ashley Beall, Brennan Haymond received the Student Merit Award for PR capstone campaign "Compass PR: Manning Navigation Guide."
Taylor Rookaird, JO'15, who works at Strategic America, was named Outstanding New Member. SJMC alums Emily Reis Abbas,JO'97, GR'09, chief marketing officer for Bankers Trust, and Kevin Waetke, JO'86, GR'93, vice president of communications at the National Pork Board, also received awards for their work.