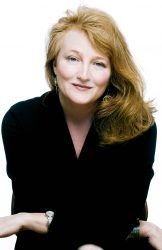 A high-profile lecture by one of the world's leading journalists on the topic of faith and religion will be preceded by an interfaith event designed to introduce visitors to the diversity of religious and faith communities in central Iowa. Both events are free and open to the public; no tickets are required.
Krista Tippett, host of the Peabody Award-winning radio program On Being, will deliver the 37th installment of the Martin Bucksbaum Distinguished Lecture Series at Drake University. The lecture is scheduled for 7 p.m. Tuesday, Nov. 15, in The Knapp Center.
The Iowa Interfaith and Multicultural Fair, scheduled from 4 to 6 p.m. in Drake's Olmsted Center, will feature representatives from 15 central Iowa faith communities—including three Jewish synagogues, three Christian churches, three Muslim mosques, two Hindu temples, two Buddhist temples, and two Sikh temples. The fair is sponsored by The Comparison Project at Drake University, the Drake Community Press, and the Des Moines Area Religious Council.
The fair (to which you may informally RSVP via Facebook) will feature music, food, photography, information, and religious objects from each of the participating faith communities. Attendees will also have an opportunity to pre-order copies of a photo-heavy book titled "Religions of Des Moines," which is being written and produced by The Comparison Project, the Drake Community Press, and local photographer Bob Blanchard. The book is expected to publish in spring 2017.
"Living in Greater Des Moines, we are surrounded by a rich diversity of religious traditions that we don't always realize," said Tim Knepper, professor of philosophy at Drake University and head of The Comparison Project at Drake University. "We are very fortunate on November 15 to have the opportunity to get to know our neighbors a bit better, as well as to hear from a renowned journalist whose professional network extends well beyond Des Moines to include such luminaries as the 14th Dalai Lama, Maya Angelou, Desmond Tutu, and Yo-Yo Ma."
Hundreds of Iowans attended a similar interfaith and multicultural event on Drake's campus last year. That event completely filled Drake's Patty and Fred Turner Jazz Center; hence the move this year to a larger venue in Olmsted Center. For more information, contact Tim Knepper, director of The Comparison Project, at 515-271-2167.