'Meet the Pros' at networking event
The local chapter of the American Advertising Federation is sponsoring a professional networking event on Wednesday, Oct. 12, 6:30-8 p.m. in Mer. 124B. Meet industry professionals who are working in the career you dream about: Client Services, Art/Design, Media, Public Relations and more. The AAF of Des Moines Meet the Pros event gives you the opportunity to meet one-on-one with professionals of your choice for 10 minutes.
Get more information and register.
Advertising class visits Homes of Oakridge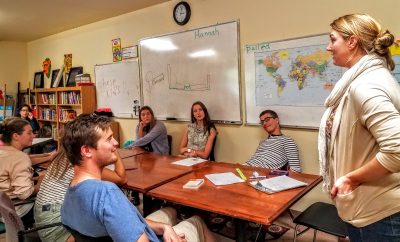 JMC 113 Concepts in Consumer Awareness students spent some time recently discussing immigrants and refugees with Leslie Olson, VISTA supervisor and manager of special projects at Homes of Oakridge, a local low-income housing development. Olson told the group that there are so many languages and cultures at Oakridge that every day it's like traveling to 40 different countries without getting on an airplane.
Former foreign correspondent, food policy expert to speak at Drake
Roger Thurow, who spent three decades as an international reporter for The Wall Street Journal  and other publications, will be on campus for a discussion and Q&A on Wednesday, Oct. 12, at 7 p.m. in Sussman Theater of Olmsted Center. The event is free and open to the public.
Thurow, who is now senior fellow on global food and agriculture for the Chicago Council on Global Affairs, will discuss his new book, "The First 1,000 Days: A Crucial Time for Mothers and Children — and the World." His appearance is sponsored by the Harkin Institute for Public Policy and Citizen Engagement, the World Food Prize, the SJMC and the College of Pharmacy and Health Sciences.
Iowa Newspaper Association scholarships available
The Iowa Newspaper Association has opened the process for 2017-2018 scholarships for students interested in careers in newspapers. Scholarships typically range from $500-1,000. For more information and to apply, see www.inanews.com. Fliers are also available outside Mer. 119.