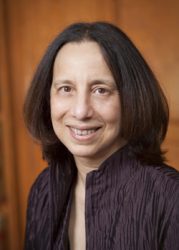 Reva Siegel, the Nicholas deB. Katzenbach Professor of Law at Yale Law School, will be the featured speaker at the Drake Constitutional Law Center's Distinguished Lecture Series.
Siegel's lecture, titled "Same-Sex Marriage and Backlash: Constitutionalism through the Lens of Consensus and Conflict," is scheduled for Oct. 27, 3 p.m., in Cartwright Hall, Room 213. The event is free and open to the public.
The Constitutional Law Center's Distinguished Lecture Series brings to campus the nation's leading constitutional scholars to engage students and faculty on the important issues of the day.
Following the U.S. Supreme Court's landmark case Obergefell v. Hodges, which held that the fundamental right to marry is guaranteed to same-sex couples by the U.S. Constitution, many warned of the backlash that would come in the decision's wake.
This lecture will examine the debates over the backlash as an occasion to consider the role of courts in the midst of constitutional conflict.
"Given Iowa's important role in the same-sex marriage debate, Professor Siegel's talk could not be more topical," said Mark Kende, James Madison Chair in Constitutional Law and director of the Constitutional Law Center.
Siegel's writing draws on legal history to explore questions of law and inequality and to analyze how courts interact with representative government and popular movements in interpreting the U.S. Constitution.
She has published numerous articles on the topic and co-authored books including Processes of Constitutional Decisionmaking, Before Roe v. Wade: Voices That Shaped the Abortion Debate Before the Supreme Court's Ruling, and The Constitution in 2020.
Siegel received her B.A., M.Phil, and J.D. from Yale. She is a member of the American Academy of Arts and Sciences and an honorary fellow of the American Society for Legal History, in addition to serving on the boards of the American Constitution Society and the General Council of the International Society of Public Law.
The lecture has been approved for one hour of Iowa CLE credit (Activity ID Number: 245344) and has applied for federal CLE credit.
---
The Drake Constitutional Law Center is one of only four constitutional law programs established by the U.S. Congress and funded by the federal government. The center's mission is to foster study of the U.S. Constitution and its roots, formation, principles, and development.
Learn more about the Drake Constitutional Law Center.