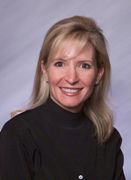 Melissa Weresh, professor of law at Drake University Law School, has been named the winner of the 2017 Thomas F. Blackwell Memorial Award for Outstanding Achievement in the Field of Legal Writing.
The prestigious award is presented annually by the Association of Legal Writing Directors and the Legal Writing Institute to a person who has made an outstanding contribution to improve the field of legal writing.
The honoree must demonstrate an ability to motivate students to excellence; a willingness to help other legal writing educators improve their teaching skills or legal writing programs; and an ability to create and integrate new ideas for teaching and motivating legal writing educators and students.
Weresh joined the Drake Law faculty in 1997. Her areas of expertise are in legal writing, appellate advocacy, environmental law, and ethics and professional responsibility. She has written two books, Legal Writing: Ethical and Professional Considerations and Iowa Legal Research, and published numerous articles.
In addition, Weresh has served as president of the Legal Writing Institute, member of the LexisNexis Law School Publishing Advisory Board, and chair of the American Association of Law Schools Section on Teaching Methods.
She was also selected to be a Galen Distinguished Guest at the University of Oregon School of Law in October.
"[Professor Weresh] has literally influenced the content of legal writing programs nationwide," wrote one of her nominators. "On an individual level, she nurtures and motivates her students. She is creative, engaging, demanding, and supportive."
Weresh will be honored at the Blackwell Award Reception in San Francisco on Jan. 4, 2017.
For more information, visit Weresh's faculty profile.