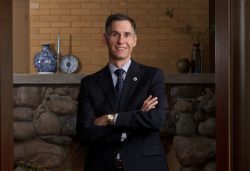 You may notice that the header of your eBlue email now reads "University Advancement" instead of the "Office of Alumni Relations." This seemingly minor language update speaks to a powerful effort to increase collaboration on Drake's campus and strengthen the ways we interact with you, our alumni and friends of the university.  In early August 2016, President Martin announced the realignment of services to create the Division of University Advancement, which is comprised of four offices: Alumni Relations, Community Relations, Development, and University Communications.
This is an exciting new chapter for Drake. All units within University Advancement share a common commitment to advancing Drake's mission through promoting, positioning, advocating, and story-telling. What we do individually matters greatly; what we do together powerfully advances the Drake experience for our students, alumni, campus partners, and the community.
As Vice President for University Advancement, one of my first actions was to appoint Dave Remund as executive director of University Communications. His long career in communications, first as a practitioner at several agencies at Fortune 500 companies, and then as a professor, make him the ideal candidate for this position. Diane Caldbeck, Associate Vice President for University Advancement, has agreed take on responsibilities leading the alumni relations team until a full-time director is identified through a search.
Each of these leaders has demonstrated passion for the University, and I have no doubt they will strengthen our Bulldog pack. All of us in University Advancement look forward to collaborating with campus partners, alumni, and friends in pushing forward the exceptional work and meaningful mission of this great University.

John P. Smith AS '92 GR '00
Vice President University Advancement