In recent weeks, Drake has announced two major initiatives aimed at enhancing the value of a Drake education for future generations of students.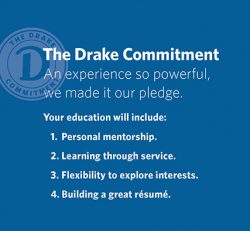 In August, President Marty Martin announced The Drake Commitment, a pledge to incoming first-year students to provide a powerful living and learning experience. With The Drake Commitment, every student's Drake education will include:
Personal mentorship—Each student will be mentored by a full-time faculty member in his or her major.
Learning through service—Students will have opportunities to make a difference, locally or globally, through community-based learning via the classroom, student organizations, athletics, Greek life, and residence life.
Flexibility to explore interests—All students can take one or more J-Term courses tuition free starting in their sophomore year.
Building a great résumé—Drake commits to helping every student obtain an internship, research, or practicum experience.
"Our alumni will note that they themselves enjoyed many of these same opportunities during their time at Drake and that these experiences were critical to their success after graduation," said President Martin. "The Drake Commitment strengthens our dedication to providing a life-changing education that fulfills each student's goals and aspirations."
Another big announcement this past week further adds to the value of the Drake degree. For full-time, undergraduate students entering in the next academic year, tuition will be fixed for the duration of their time at Drake—what the University is calling the Drake Tuition Guarantee. Rather than Drake's past practice of annual tuition increases, the cost of tuition will never go up for this cohort of students.
"The Tuition Guarantee is a great deal for our prospective students in that it provides financial certainty as they and their families plan for paying for their college education," said Martin. "With The Drake Commitment and the Tuition Guarantee, the value of the Drake degree is stronger than ever, and I'm confident it will help our University to thrive."
Do you know a potential Bulldog? Share your Drake story, and encourage them to visit campus: www.drake.edu/visit