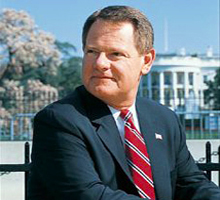 From cocaine smugglers to war criminals to high-profile bank embezzlers, John Michelich has prosecuted all types of criminals during his 38-year career.
"I'm proud that what we do as prosecutors is a very important public service," says Michelich, LW'77, who currently works as Senior Litigation Counsel in the Fraud Section of the U.S. Department of Justice. "You can go home at night and really feel like you've done something good for your country."
Michelich knew he wanted to be involved in trial work as a student at Drake Law School. He competed in moot court and won the Rodney L. Hudson Appellate Advocacy Award, which recognizes the student who makes the best argument at the annual Supreme Court Competition.
After graduation, he was hired as a prosecutor for Sangamon County in Springfield, Ill., near his hometown of Auburn. He was soon taking on felony cases including burglary, armed robbery, sexual assault, and murder.
"I tried quite a number of very serious, violent sexual assaults," says Michelich. "In those crimes, when you hear what happened and you talk to victims, you immediately empathize with them. It made me even more determined to bring the criminals to justice."
Michelich's extensive jury trial experience in Illinois prepared him for the next step in his career: becoming a federal prosecutor.
In 1988, Michelich moved to Washington, D.C., to work in the Department of Justice's Child Exploitation and Obscenity Section, which prosecutes cases involving child pornography and the interstate transportation of pornographic materials.
A few years later, he moved to the Narcotic and Dangerous Drug Section, where he handled some "very complex cocaine importation cases."
For one assignment, Michelich spent a year and a half in Puerto Rico as part of a joint task force between the U.S. Drug Enforcement Administration (DEA), the FBI, and Puerto Rican police.
Michelich explains that smugglers would drop bales of cocaine wrapped in plastic in the water from airplanes. Boats would quickly pick them up, bring them to shore, and eventually deliver the drugs to the continental United States.
Thanks to his efforts, more than 30 people in the drug operation were indicted, with several serving long prison terms.
"Those are the types of cases where the defendants are all eligible for life in prison because the drug quantities are so huge," Michelich explains.
Shortly thereafter, Michelich had an even bigger opportunity. He was chosen to serve a one-year detail to the United Nations War Crimes Tribunal in The Hague, Netherlands, as part of a team of prosecutors seeking to indict war criminals from the Bosnian War.
During his time in The Hague, Michelich investigated and prosecuted war crimes including murder, genocide, and ethnic cleansing that were committed in the territory of former Yugoslavia. He traveled to northern Bosnia to interview victims, working through a translator to get written statements.
"I listened to stories of how they were tortured or forced to move from their homes because of ethnic cleansing," Michelich says. "These people had been through some of the most horrendous experiences that you could ever imagine."
These interviews, along with Michelich's work drafting motions and preparing the cases for trial, helped lead to the indictments of four Bosnian Serbs charged with crimes against humanity.
Michelich returned to Washington, D.C., and switched gears once again, joining the Department of Justice's Fraud Section. For the past 23 years, he has worked in the section to prosecute white-collar fraud crimes ranging from bank fraud to mortgage fraud.
Although he is headquartered in Washington, D.C., Michelich is assigned to cases in federal courts across the country. He has traveled from New York to California to the island of Guam.
One of his most high-profile cases was a bank fraud case involving the First National Bank of Keystone in Keystone, W.Va., in the early 1990s. At the time, it was the largest single bank insolvency since the Great Depression and cost the Federal Deposit Insurance Corporation (FDIC) more than $800 million.
"Keystone Bank was a small bank in a small town, but it was one of the most important bank fraud cases in the country because it was so costly," Michelich says. "It was quite a big deal at the time."
In recognition of his work on the case, then-U.S. Attorney General John Ashcroft presented Michelich with the Attorney General's Distinguished Service Award in 2002. A book about the Keystone Bank collapse, titled Anatomy of a Banking Scandal, was recently published that includes quotes from Michelich's cross-examinations.
Currently, Michelich is assigned to prosecute health care fraud cases. He is working on a Health Care Fraud Strike Force that investigates and prosecutes cases nationwide against physicians, physical therapy clinics, durable medical equipment providers, and others.
Michelich also teaches trial advocacy to federal prosecutors at the Department of Justice's National Advocacy Center and serves as an adjunct professor to third-year students at the Georgetown University Law Center.
Although he has had a long, successful career since graduating from Drake Law School, Michelich says it's difficult to pick his biggest accomplishment.
"We just do our work day in and day out, and it seems like one case leads right into the next," says Michelich. "I think my proudest achievement is just the fact that I've been able to do this as a prosecutor for 38 years."