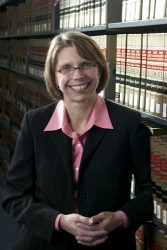 Not many Drake Law students graduate without getting to know Laurie Doré, the Ellis and Nelle Levitt Distinguished Professor of Law.
Now in her 24th year at Drake Law School, Laurie teaches Civil Procedure I and II and Evidence – all required courses – in addition to an elective course, Conflict of Laws. She also oversees the Civil Litigation and Dispute Resolution Certificate program and has coached Drake's National Moot Court team since 2000.
"I have the privilege of teaching a large number of our students," Laurie says. "And moot court has given me even more opportunities to connect with students outside of the classroom."
From traveling with the teams to competitions to helping students prepare for oral arguments, Laurie gets to know the moot court participants. She continues to follow their successes after graduation and has even been invited to some of their weddings.
"When I went to law school, I never set foot in a faculty member's office," Laurie says. "It's just the opposite here at Drake. I tell my advisees to take advantage of our great faculty and talk to professors. Get to know us and let us know you."
Before coming to Drake Law School, Laurie was a shareholder in the litigation section of a large Austin, Texas, law firm. But she and her husband, Matthew Doré, both wanted to enter teaching.
In 1992, Matthew was hired as a professor at Drake Law School and Laurie was offered a visiting position, so they moved their young family from Texas to Iowa. The following year, Laurie was hired as a tenure-track professor at Drake Law School, and they have both served on the faculty ever since.
"We enjoy working together," she says. "Matt and I specialize in different subject areas, and we tend to teach and mentor different groups of students. So it's likely that a Drake Law student will have at least one Professor Doré before they graduate."
In addition to teaching and coaching moot court, Laurie is actively involved with the Iowa bench and bar. She has served on numerous Iowa Supreme Court task forces, advisory committees, and working groups, including the Civil Justice Reform Advisory Committee and the Working Group on the Iowa Rules of Evidence.
Laurie also authors the "Evidence" volume of the Iowa Practice Series published by Thomson West, and she recently published an article about Iowa's new Expedited Civil Action Rule.
"Helping the courts and working to reform different areas of the law enriches my scholarship, which also feeds into the classroom," Laurie explains. "I'm able to tell my class about what's going on in the real world, and I can show them that I'm still connected to the practice of law."
This fall semester, Laurie is busier than ever. In November, Drake Law School will host the regional round of the National Moot Court Competition for the first time in six years. Laurie is working with the Moot Court Board to coordinate the event and recruit volunteer judges for the various competition rounds.
"It will be a great opportunity to showcase Drake Law School," Laurie says.
Since joining Drake Law School, Laurie has left a positive impression on thousands of students. She was named the Leland Sanford Forrest Outstanding Law Professor of the Year five times (2001, 2002, 2007, 2011, and 2012) and received the University-wide Madelyn M. Levitt Teacher of the Year Award in 2009.
Still, Laurie remains humble about her impact at the Law School.
"We have really great students and faculty who are motivated to succeed," Laurie says. "I'm just one of many faculty who are actively involved in the Law School, the community, and the Iowa Bar. That's what makes Drake Law School special."
(Note: Judges are still needed for the Regional National Moot Court Competition. If you're interested in volunteering as a judge, complete the online form.)