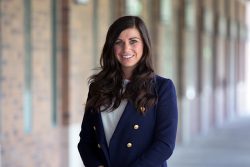 When Jenna Kirsch was a senior in high school, she met U.S. Senator Chuck Grassley during a trip to Washington, D.C. She visited Grassley's office, and he even took her on a tour of the Hart Senate Office Building.
Eight years later, Kirsch spent the summer working in that same building as Grassley's legislative intern.
"It's unique that I ended up going back to D.C. and working for him after all these years—it went full circle," Kirsch says.
At the time, the Humboldt, Iowa, native had no plans to attend law school. After graduating from the University of Iowa with a degree in journalism and mass communications, she spent a few years in the work force before realizing that wasn't the path she wanted.
"I wanted to do something more," Kirsch explains. "I always had an interest in politics, so I was drawn to Drake's legislative practice program. And with the Iowa State Capitol so nearby, it was a perfect fit."
Kirsch enrolled at Drake Law School, where she immediately took advantage of the Law School's Legislative Practice Center. She clerked for State Representative Zach Nunn and interned for Grassley's federal office in Des Moines.
In her second year at Drake Law School, Kirsch was given the opportunity to work for Grassley in Washington, D.C. With the help of Aaron McKay, Grassley's state director, she was accepted as an intern in the Senate Judiciary Committee. Julie Smith, director of the Drake Legislative Practice Center, assisted in enabling Kirsch to earn Drake Law credit.
In May, Kirsch flew to Washington, D.C. to begin her internship.
"It was a lot more fast-paced work than what I've done here, especially when the Senate was in session," Kirsch says. "But everyone was very helpful. I met a lot of people and had great networking opportunities."
From day one, Kirsch hit the ground running working on a hearing on the Elder Abuse Prevention and Prosecution Act, a bill Grassley proposed to combat crimes targeting seniors. Kirsch researched different elder justice laws at the state level, talked to senior advocacy groups, and gathered insight into how the proposed bill would be received.
"I learned the importance of adapting," Kirsch says. "It's essential to work with different advocacy groups and adapt policy into something that will be best for everyone."
The rest of the summer, Kirsch spent time working for the Senate Judiciary Committee's various subcommittees, conducting research and writing a government oversight letter. She also wrote speeches for Grassley and was even able to watch a Senate floor vote.
Kirsch says the best part was being in the political hub of Washington, D.C. She would frequently pass prominent congressmen in the hallway and had opportunities to network with the offices of other senators.
"It was a great experience," Kirsch says of her internship. "Just to be involved on a federal level is so important. I would definitely recommend it to anyone who's interested in legislative practice."