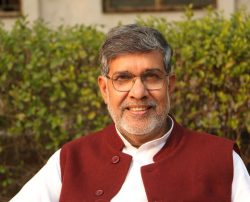 There are more than 168 million child laborers in the world. More than half of them do hazardous work likely to put their health and safety at risk. While a world in which children are forced to work, often instead of going to school, may feel impossibly distant from us in America, we must ask if we as Americans can do something to stop it.
There is no straightforward solution. Between the complexities of trade agreements and international labor standards, global policy on child labor would require unprecedented multi-national cooperation. And even then, can the patterns of poverty, lack of education, and classism that have led to forced child labor be fixed?
On Monday, Sept. 19, the Harkin Institute for Public Policy and Citizen Engagement will welcome Kailash Satyarthi, Nobel Peace Prize laureate and leader of the global movement to end forced child labor, to answer this question.
"The Child Labor Epidemic: a Pattern of Poverty and Illiteracy" will begin at 7 p.m. in Sussman Theater in the lower level of Olmsted Center at Drake University, 2875 University Ave. The lecture is the sixth installment of The Sussman Lecture Series, presented by The Harkin Institute for Public Policy and Citizen Engagement. There is no cost to attend, but tickets are required as seating is limited. Visit www.drake.edu/harkininstitute/events to reserve a ticket.
In this free public lecture, Satyarthi will draw from his experiences leaving India's caste system, founding Bachpan Bachao Andolan (which translates to "Save the Childhood Movement"), and liberating more than 85,000 children from forced labor. His lecture will also draw on information found in an annual report by the Department of Labor; "Findings on the Worst Forms of Child Labor" is published by the Bureau of International Labor Affairs every September.
Established by Richard Sussman, AS'51, and his late wife Lila, The Sussman Lecture Series is held twice a year and invites notable public policy figures to discuss topical current events with a small audience.
"The Sussman Lecture Series exists to engage students and the public in important contemporary issues," said Harkin Institute executive director Joseph Jones. "It's critical to understand global child labor issues and the role America can play to combat them, and the enthusiastic response to Mr. Satyarthi's upcoming lecture shows that the series' vision is being achieved."
Past speakers in the Sussman Lecture Series include Julie Stewart, founder of Families Against Mandatory Minimums; Richard Rothstein, researcher at the Economic Policy Institute; Scott Shane, national security reporter for The New York Times; Celine Cousteau, French explorer, education ambassador, and documentary filmmaker; and Darrell West, founding director of the Center for Technology Innovation at the Brookings Institution.
The Harkin Institute for Public Policy & Citizen Engagement informs citizens, inspires creative cooperation, and catalyzes change on issues of social justice, fairness, and opportunity. Founded on the premise that good public policy is best achieved when policymakers have access to high-quality information, political processes are open and well-understood, and citizens are informed and active participants, the Harkin Institute offers programming, experiences, research, and connectivity focused on the areas that defined Senator Harkin's (Retired) career: people with disabilities, retirement security, wellness and nutrition, and labor and employment.