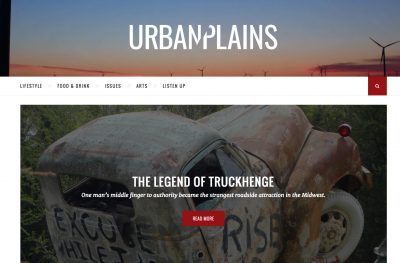 Student publications are finalists for top awards
Drake student publications are once again finalists for some of the nation's top collegiate journalism awards.
Drake Magazine and Urban Plains, the senior capstone website, are two of the 30 finalists for Associated Collegiate Press Pacemaker awards for online publications. The print edition of Drake Magazine was also a finalist for a print magazine Pacemaker.
The Pacemaker is the top award in college journalism. Drake and Northwestern University are the only schools to have two finalists. Other finalists include heavy-hitters such as UC-Berkeley, USC, UCLA, CU, Yale, Iowa State, Indiana, Ball State, Western Kentucky, UNC, CUNY, Syracuse, Penn State, Oregon, Vanderbilt, James Madison and Wisconsin.
In the College Media Association's Pinnacle awards contest, Drake scored two of the three finalists for best news story: an Urban Plains story by Colton Warren, JO'16, on an Illinois town's recovery from a tornado, and senior Molly Longman's Drake Magazine story on the challenges facing refugees. A story about a 94-year-old hippie by Avery Gregurich, JO'16, is a finalist for best profile. Urban Plains is a finalist for online main page design, multimedia story and podcast. Drake Magazine is a finalist for portrait photography and magazine cover design.
Winners will be announced at the ACP and CMA conventions in October.
Beginning-of-the-year SJMC ice cream social
Come reconnect with friends or meet new ones, and say hi to SJMC faculty and staff. The ice cream social will be held this Wednesday, Sept. 7, 4-5 p.m. in the Meredith Hall atrium.
 The Big Dream Gathering comes to Drake
Drake is hosting The BIG Dream Gathering on Tuesday, Sept. 6, 6:30-8 p.m. in Parents Hall of Olmsted Center. The event is an opportunity to be inspired, share your dream and enlist support in making it a reality.
Sign up for free grant-writing workshop
WHAT: Grant-writing workshop for Drake students
WHO: Taught by Lance Noe, Director of Center for Professional Studies at Drake
WHEN: Friday, Sept. 23, 1-4 p.m. (Registration deadline: Monday, Sept. 19)
WHERE: Aliber Hall room #108
WHY: Valuable life skill for young artists, makers, and entrepreneurs and valuable professional skill for future job-seekers
Back by popular demand, Drake Writing Internships is offering a grant-writing workshop for students wishing to gain experience in this valuable skill for their own projects or for their professional development. Current or former Drake Writing Interns have first priority, but the workshop is open to all current students.
The workshop will be led by Lance Noe, Director of Drake's Center for Professional Studies, a sought-after speaker and consulting professional who offers a longer version of this workshop in the community.
Participants will receive a certificate of completion. Refreshments provided.
Interested? Registration is required. Please email Lisa Boes at lisa.boes@drake.edu  by Monday, Sept. 19, if you would like a seat.
Questions? Contact the Writing Internships director, Prof. Carol Spaulding-Kruse at carol.spaulding@drake.edu.
SJMC students work on music promotion project
Cheyenne Ramsey, a senior advertising major, and Aaron Bell, a senior public relations major, worked this summer on a marketing and promotion plan for an acclaimed pianist who wanted to return to the performance stage. Drake Communications posted a story about the project.
Chicago native Tom Splitt released numerous albums and toured extensively before retiring from public performance to focus on other musical pursuits, including composition of choral pieces and an opera. He recently decided it was time to reemerge through a series of concerts, the first of which will be held at 7:30 p.m., Thursday, Sept. 22, in the Harmon Fine Arts Center's Performing Arts Hall at Drake University. The performance will be open to the public, and admission will be free, as a gesture of appreciation for the support he received from two Drake students.
Want an internship? Keep an eye on the Gigs
The Drake Media Gigs is a great way to find out about internships, jobs and career development opportunities. The blog is maintained by SJMC faculty and staff. See SJMC Internship Coordinator Carlyn Crowe (Mer. 120) with any questions.