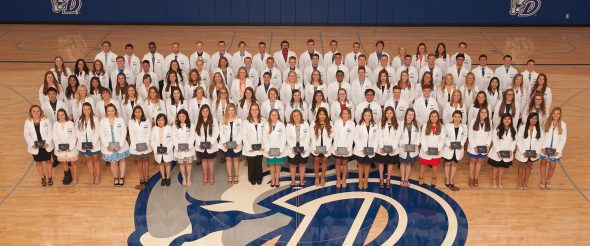 Receiving a white coat is a privilege and an important passage in the lives of Drake's Occupational Therapy Doctorate (OTD) and Doctor of Pharmacy (PharmD) students. The College of Pharmacy & Health Sciences' annual event symbolically celebrates students' first step of the journey into their chosen professions. The 2016 White Coat Ceremony was a special day in particular because the College introduced the inaugural class of Occupational Therapy Doctorate students.
In her opening address, Dean Renae Chesnut, introduced the white coat as a symbol in the health professions, representing both the "authority of science and the art of healing," impressing upon the students the importance of the profound responsibility and great sense of pride that comes from entering the Occupational Therapy and Pharmacy professions.
Zach Lough, a second-year Doctor of Pharmacy student and past Drake Student Senator for the College of Pharmacy and Health Sciences, also addressed the students prior to receiving their white coats.  In his remarks, he encouraged his new peers to "stop, drop and roll."  He encouraged them to stop and take the time to make life-long learning and relationships with classmates a priority, drop unnecessary distractions and prioritize opportunities that will enhance their educational experiences, and "roll with the punches" as they navigate their education and plan for the future.
Leanne O'Brien, President of the Iowa Occupational Therapy Association, and Dr. Anthony Pudlo, Vice President of Professional Affairs for the Iowa Pharmacy Association, congratulated students as they exited the stage with their white coats and welcomed them to the profession through the reading of a professional pledge.
The OTD students' pledge emphasizes an OTD student's oath to uphold the standards, values and ethical codes of the profession of Occupational Therapy.  By reciting this pledge, led by President O'Brien, the Drake OTD Class of 2019 promised to commit their lives to the service of others, provide accessible and appropriate care to all, and provide examples of excellence in the health industry, their communities and society.
The Pharmacy Student's Pledge of Professionalism emphasizes a PharmD student's oath to uphold a professional identify founded in integrity, ethical behavior and honor.  By reciting this pledge, led by Dr. Pudlo, the Drake PharmD Class of 2020 promised to maintain the highest ideals of professionalism by contributing to the well-being of others, accepting responsibility and accountability, personally committing to the code of professional ethics set forth by the profession of Pharmacy, and dedicating their lives to excellence.
Congratulations to these new OTD and PharmD students as they have taken the first step into their chosen professions and begin their professional education at Drake University.
Click here to watch the 2016 White Coat Ceremony in its entirety.
OTD Class of 2019 Demographics
The College of Pharmacy and Health Sciences welcomed 26 students into the first class of the Occupational Therapy Doctorate program on May 23, 2016.  The majority (92%) are female, with 96% White Non-Hispanic.  46% are Iowa residents.  OTD students from states other than Iowa are from Florida (1), Illinois (3), Indiana (1), Kansas (1), Minnesota (3), Missouri (1), Nebraska (1) and Wisconsin (3).  The average overall GPA is 3.43 and average GRE scores are 147 Quantitative, 149 Verbal and 3.79 Writing.  42% of OTD students completed their Bachelor's degree at an institution in the state of Iowa.
PharmD Class of 2020 Demographics
The College of Pharmacy and Health Sciences welcomed 103 new students into the PharmD program at P1 Orientation on August 25, 2016.  The majority (65%) are female, with 76% White Non-Hispanic, 16% Asian, and 1 % Hispanic.  Drake pre-pharmacy students make up 75% of the P1 class.  Iowa residents comprise 30% of the class.  PharmD students from other states other than Iowa are from California (3), Colorado (1), Illinois (29), Minnesota (17), Missouri (3), North Dakota (1), Nebraska (1), South Dakota (1), Tennessee (1), and Wisconsin (15).  The average overall GPA is 3.54, average math/science GPA for pre-pharmacy students is 3.42, and average PCAT score for transfer students is in the 61st percentile.  14% of transfer students earned a Bachelor's degree prior to beginning their P1 year.