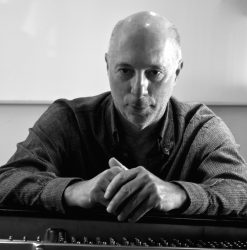 A pianist and composer who earned high acclaim for his fresh, improvisational style during the 1980s and 1990s will make his proud return to the concert stage for the first time in more than 15 years thanks in part to the efforts of Drake University students.
Chicago native Tom Splitt released numerous albums and toured extensively before retiring from public performance to focus on other musical pursuits, including composition of choral pieces and an opera. He recently decided it was time to reemerge through a series of concerts, the first of which will be held at 7:30 p.m. Thursday, Sept. 22, in the Harmon Fine Arts Center's Performing Arts Hall at Drake University. The performance will be open to the public, and admission will be free, as a gesture of appreciation for the support he received from two Drake students.
While considering his return to performance, Splitt crossed paths Andrew Norman, associate professor of marketing in Drake's College of Business and Public Administration. Norman posted an independent study course in indie music marketing over the summer 2016; Cheyenne Ramsay, a senior advertising major, and Aaron Bell, senior public relations and computer science major, answered the call.
Over a five-week period, Ramsay and Bell conducted research and develop a marketing plan for Splitt. They advised Splitt on promotion, website development, performance opportunities, and distribution of his music. Splitt decided it would be fitting for him to mark his comeback with a free concert at Drake.
Those who come out to hear Splitt perform on the Performing Arts Hall's special extended range Bösendorfer Imperial 290 piano are in for a treat. Splitt's musical approach has been compared with that of Keith Jarrett and George Winston. Despite some basic similarities to these piano legends, Splitt is in a class by himself with a distinct style all his own.
"It is a rare few who have managed to build upon—rather than merely mimic—the short piano pieces of Keith Jarrett," writes jazz critic Neil Tesser. "In that group belongs Tom Splitt, with his at once restless and restful improvisations."
Splitt's style transcends the method of improvising along established chord structures of previously composed pieces. While Splitt will be playing some of his previously recorded material, he makes his mark by spontaneously composing entire pieces on the fly. On the concert stage, Splitt displays moments of inspirational genius when he opens up and reveals what comes through when the soul freely expresses itself. Splitt provides a sneak peak of his improvisational skills in this clip from a recent practice session.
For more information, about the upcoming Tom Splitt concert at Drake, contact Andy Norman at atnorman@drake.edu. Learn more about Tom Splitt at www.tomsplitt.com or on Facebook.