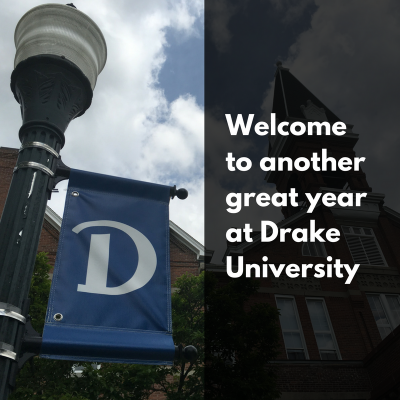 Student media to host activities fair
Student media organizations will host an activities fair on Thursday, Sept. 1, 4-7 p.m. on Helmick Commons. Stop by to explore the many opportunities to get involved in student media, including campus publications and broadcast, PR, advertising and communications organizations.
The BIG Dream Gathering comes to Drake
Drake is hosting The BIG Dream Gathering on Tuesday, Sept. 6, 6:30-8 p.m. in Parents Hall of Olmsted Center. The event is an opportunity to be inspired, share your dream and enlist support in making it a reality.
Professor Pisarski accompanies Drake group to China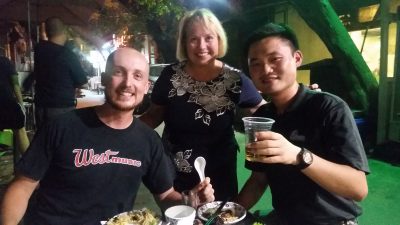 Advertising Professor Dorothy Pisarski is in China as part of a delegation accompanying Drake graduates who are starting on their terms in the University's Teach in China program. Above, Pisarski catches up with two Drake alumni who live in Beijing: SJMC alum Tyler O'Neil and College of Business and Public Administration graduate Kenn Yu.
Some reminders from Mallory
Beginning-of-the-year tips from SJMC Dean's Assistant Mallory Quinn:
Enrollment validation: You must attend the first session of each class to validate your enrollment, otherwise you will be dropped from the course. Contact your professor if you have any questions or concerns.
Drop/add: Friday, Sept. 2, is the deadline for dropping a class without a "W." To drop or add a class, pick up a form outside Mallory's office, Mer. 119.
Sexual and interpersonal misconduct: All new graduate and undergraduate students are required to take online training intended to encourage a safe, respectful environment at Drake. You should have received an email from the Drake Student Life office this weekend explaining the process. You must complete the training by mid-October, otherwise a hold will be put on your account and you'll not be allowed to register for spring classes. Please see the Student Life office in Olmsted Center or Mallory in Mer. 119 if you have questions.
Work-study students needed
The SJMC office is hiring work-study students to help in Mallory Quinn's office, to staff electronic equipment checkout and to help with the School's publicity. Graphic design and PR skills especially helpful. See Shari Tenney in Mer. 118 to apply.
Congratulations to our award-winning students!
Drake student journalists won or were nominated for some of the top student media awards in the nation this summer.
Drake Magazine has been nominated for the Associated Collegiate Press' Pacemaker Award, the top award in college journalism. The winners will be announced at the ACP convention later this fall.
And SJMC once again had a strong showing in the Association for Education in Journalism and Mass Communication magazine awards:
Single Issue of an Ongoing Magazine, General Excellence, first place: Drake magazine, senior Melissa Studach, editor
Single Issue of an Ongoing Magazine, Design, first place: Drake magazine, Susanna Hayward, JO'16, art director
Single Issue of an Ongoing Magazine, Editorial, first place: The Annual, Emily Gregor, JO'16, editor

Single Issue of an Ongoing Magazine, Editorial, second place: Drake magazine, senior Melissa Studach, editor

Online Magazine, honorable mention, Urban Plains

Features, second place: Colton Warren, JO'16
New magazine Ideas, third place: Katie Bandurski, junior
First-person article, honorable mention: Cole Norum, JO'16
Quote from the judge of the general excellence category: "I'm gobsmacked by how great this entry is — every bit the equal of many professional city magazines. . . . I mean seriously: Wow. Are you sure you all aren't professionals?"
Alumni news
Cole Norum, JO'16, has been chosen for a Fulbright scholarship to Germany this fall.
Ken-Matt Martin, JO'12, received two awards in the Cloris Awards, the local theater honors named for Des Moines native and award-winning actress Cloris Leachman. Martin won honors for best play and the Cloris Leachman Special Recognition Award.
Tyler Marciniak, JO'05, head of product communications for Astellas Pharma based in Chicago, was recently named one of PR Week's "40 under 40" for 2016.